New Houseboats For Sale - the tubiQ house boat sets the new standard.
by Riko Kruit
(Netherlands)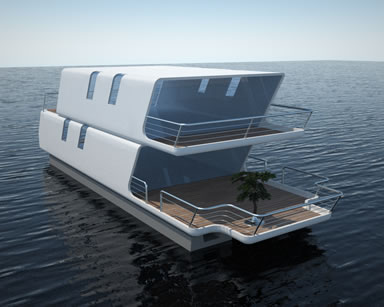 New Houseboats For Sale - the tubiQ sets the new standard.
When it comes to new houseboats for sale, the tubiQ sets the new standard of life on water, and definitely a vibrant futuristic house-boat design.


The tubiQ houseboat is a new development in the houseboating industry! We are now building the first prototype houseboats, and the tubiQs will be on the market soon. If you would like to see a
TubiQ houseboat spec sheet and manual.
Cheers, Riko
Reply - Answer
Well Riko, thank you for letting us know about the new houseboats for sale in the near future. And may I say, you have quite the modern futuristic houseboat design going on there.
I am sure that it could very well be the beginning of a new houseboat styling for the future. We are all looking forward to seeing some pictures of the finished and delivered models.
Lastly
, hopefully some of our readers will share and post comments about their new houseboats for sale experiences. Feel free to use the "Click here to post comments." link found near the bottom of this page.
Thanks again for sharing, IAN from all-about-houseboats
Free Bonus Offer
To show our deep appreciation to all of our readers and visitors, here is the link to our free houseboat magazine, the INSIDER. Go ahead click the book and sign-up, it's free and filled with great articles, tips, information and website updates.