New Floating Cottage Homes - the Harbor Retreat and Coastal Manor models
by IAN from www.all-about-houseboats.com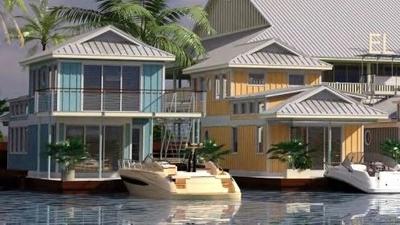 Photo #1 - the affordable Harbor Retreat model
When it comes to affordable floating homes, the new floating cottages are a very inexpensive opportunity to own and enjoy the waterfront lifestyle. Today we are showcasing the Harbor Retreat and Coastal Manor models.

There's the 45 foot Coastal Manor (photo #3) priced at @ $209k US and the new 2-story Harbor Retreat 46ft (photo #1) priced at @ $249k US.

There is also the single-level Sea Shanty 44ft (photo #2) which includes a 2nd-level deck for a reasonable @ $215k US.

There's also a new addition of a 3rd-level "Crow's Nest Seating" option for some amazing morning coffee sunrises or evening sunsets.


Crow's Nest Seating (photo #2 & 4)
The "Crow's Nest Seating" -- is a 3rd-level, mini-deck that offers a padded double-seat with back rest and arm rests, along with an overhead bimini (sun shade). What a GREAT vantage point from which to watch a rising or setting sun.
Read a Book - Peace and Quiet Time
If your life is filled with family or guests, it's a great place to "find some peace and quiet" aloft....not to mention private-and-comfortable seating (with a killer view), from which to finish that compelling e-book you've been reading.
New Option, the Eco-Quarium
There's ANOTHER great new option, too -- our "Eco-Quarium." This is a clear (see-through), 8 square-foot panel (4' x 2'), set flush in the living room floor, and located between the 2 hulls, thus affording you a view of the water directly below your floating home.
Underwater LED Lights
Better yet, this option includes underwater lights (located below the waterline, along the inner side of each hull, under that living room floor panel. These intense, LED lights are available in white, green, or blue. When turned on at night, their illumination will shine up through the water-and-the-flush-mounted floor panel, thus providing a "rippling light show" along the walls and ceiling of your otherwise darkened living room.
Zero Maintenance - an underwater ecological aquarium
But why the "Eco-Quarium" name? The underwater lights will draw all manner of aquatic-critters for your viewing, day or night, right beneath that see-through panel. In effect, you have a natural, ecological aquarium, with zero maintenance required on your part.
Better yet? They're including an easily-unscrewed, round, 4" flush-mounted hatch at one end of the see-through panel. This will allow you to drop fish-food (table scraps?) down through that little hatch, so as to further encourage fish, shrimp, etc. to congregate beneath that see-thru panel.
In effect, you have a zero-maintenance "aquarium" existing below that see-thru panel. (By the way, this panel is made of Lexan, which is the super-strong material used for military cockpit covers, airline windows, etc. It's PLENTY strong to sustain people walking on it.)
Train the local fish habitat
If you schedule your underwater lights so they're turned on at the same time each evening, at which time you also drop a bit of food through that 4" hatch, you'll have the local fish trained within just a few days to show up at that precise time each evening.
Get More Information
If you are interested or have any questions, be sure to
click here to download a color brochure
which has all the details and pricing info you need on these new floating cottage homes. Please note that pricing may change without further notice.
Search the Site
If you're still looking for more information, you can try our
search box
, found at the top right hand corner. You can also contact us to ask your pressing houseboat questions.
Free Bonus Offer
To show our deep appreciation to all of our readers and visitors, here is the link to our free houseboat magazine, the INSIDER. Go ahead click the book and sign-up, it's free and filled with great articles, tips, information and website updates.