Mercury Mercruiser Outdrive Sterndrive Identification on a houseboat
by Dave
(Davenport, IA)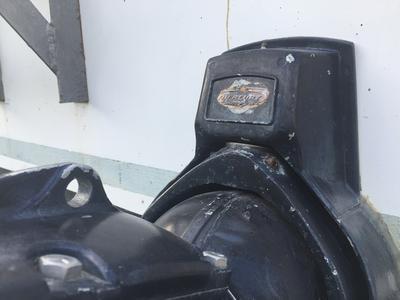 An older generation Mercury sterndrive
We are trying to identify the Mercury or Mercruiser sterndrive that is on the houseboat. The boat is a 1970 or so Gibson 36 with a Mercruiser 225HP 302 motor in it. The out drive needs to be replaced due to electrolysis and so here we go...


First things first though. What is the outdrive currently on it?? It's marked Mercury, but thats all I have to go on.
Any help would be greatly appreciated, Dave from Davenport, IA

Reply - Answer
Well, Dave, congratulations on posting your photos and question in the houseboat forums.
In the early days of Mercruiser, the outdrives were labelled MERCURY with not much else on the outdrive. I am going to say it is one of the "1st generation" Alpha outdrives, but I could be mistaken.
Surely
, some of our readers and visitors will share and post comments about their
houseboat and MERCURY & MERCRUISER related experiences and tips.
Feel free to use the "click here to post comments" link found near the bottom of this page.
Thanks again for sharing, IAN from All About Houseboats
More Information
Free Bonus Offer
To show our deep appreciation to all of our readers and visitors, here is the link to our free houseboat magazine, the INSIDER. Go ahead click the book and sign-up, it's free and filled with great articles, tips, information and website updates.