Luxury Houseboats - new Bravada Yachts by Compass North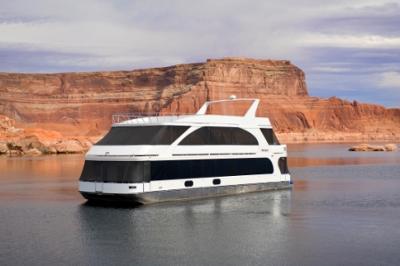 75' x22' Luxury Houseboats on Lake Powell
When looking for luxury houseboats, Bravada Yachts from Compass North Industries may very well be on your bucket list. If you're a boat buyer with an unlimited budget and a desire to have the top of the line amenities, than Bravada is likely for you.


A few years back as a boat owner I had the opportunity to sit on the advisory board of one of the nations largest and well known manufacturers in Kentucky. At the annual meeting the question was asked "what is the number one thing the houseboat manufacturers could do to meet changing market demands?"
The number one response by houseboat Dealers and Owners was to Advance the Design and Styling of current Houseboats to provide more fit and finish and create a houseboat that had more Yacht like lines and clean design.
That manufacturer unfortunatley did not survive the economic downturn. However a manufacturer has emerged from the ashes of a devastated houseboat industry in Phoenix, Arizona.
Bravada Yachts has made incredible strides in the advancement of a new age of houseboats. I have toured these boats and seen them in opperation on Lake Powell in Utah.
There is nothing like it that I have seen in todays houseboat market. These boats include incredible features such as three levels, Seamless Glass wall designs, incredible fit and finish and world class interiors.
One of the Bravada's I saw even had a heliport with a helicopter on top! I look forward to watching the the Bravada line grow and hopefully gain a foothold in market sector that needs a clear standard.
Lastly
, hopefully some of our readers and visitors will share and post comments about their luxury houseboat experiences.
Feel free to use the "Click here to post comments." link found near the bottom of this page.
Thanks again for sharing, IAN from all-about-houseboats
Free Bonus Offer
To show our deep appreciation to all of our readers and visitors, here is the link to our free houseboat magazine, the INSIDER. Go ahead click the book and sign-up, it's free and filled with great articles, tips, information and website updates.