L'il Hobo 30' Trailerable Houseboat - great boat to travel, eat, sleep, fish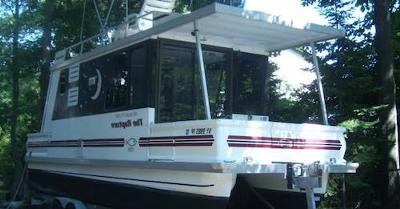 sampling of L'il Hobo Trailerable Houseboats
We used to have a 20' pontoon boat and loved it other then it wasn't set up to be able to sleep overnight. We used to pull a tarp over the bimini top and sleep but a lot of extra work.


So we started looking for small houseboats. Not too many around that caught our eye. We found a L'il Hobo and bought it. Redid the upholstery and tuned and cleaned it up a bit. We just put it out in the water a week ago.
Sitting out on the calm water enjoying your dinner, and then retiring to a warm place to sleep. Getting up in the morning, have a wash, and enjoy the beauty around you, catch a couple of fish before breakfast.
It doesn't get much better then that. Now that's what I call living. It is so easy to maneuver around and with an 80 hp Yamaha 4 stroke you can barely hear it running, and very good on fuel.
We would never sell it. So if you're thinking about buying one go for it.
Reply - Answer
I can understand what you mean, there's nothing better than being out on a boat, any day is a great day out fishing.
The advantages of trailerable houseboats are that they can be pulled out just about anywhere, and are great for couples who want to explore. Glad to hear that you're enjoying her.
Lastly
, hopefully some of our readers and visitors will share and post comments about their trailerable houseboat experiences and travels.
Feel free to use the "Click here to post comments." link found near the bottom of this page.
Thanks again for sharing, IAN from all-about-houseboats
More Information
Free Bonus Offer
To show our deep appreciation to all of our readers and visitors, here is the link to our free houseboat magazine, the INSIDER. Go ahead click the book and sign-up, it's free and filled with great articles, tips, information and website updates.