Lake Powell Houseboats - Hall's Crossing Marina, Lake Powell, UT
by Robert Lea
(Durango, CO)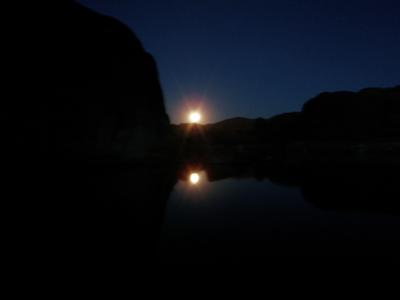 Houseboat Photos - full moonrise over Lake Powell
Our favorite marina has to be Hall's Crossing marina on Lake Powell. It is 140 miles in length and 2000+ miles of shoreline, with lots of history, canyons galore to explore and 500 ft vertical cliff faces and rock formations whose images and colors change every time you look at them.


Mostly calm waters, (but Katy, do bar the door when the wind comes up over 30 mph), sun, warm water for swimming, cool(er) nights for sleeping on the upper deck to watch the stars and the moon. Lots of time for naps, hikes, food drink and talk.
Robert Lea, Lake Powell.
Reply - Answer
Well Robert, it sounds like you have found yourselves a great place to go houseboating. And I like your ideas for lots of time for naps, hikes, food drink and talk :)
Lastly
, hopefully some of our readers and visitors will share and post comments about their favourite houseboat marina experiences.
Feel free to use the "Click here to post comments." link found near the bottom of this page.
Thanks again for sharing, IAN from all-about-houseboats
More Information
Free Bonus Offer
To show our deep appreciation to all of our readers and visitors, here is the link to our free houseboat magazine, the INSIDER. Go ahead click the book and sign-up, it's free and filled with great articles, tips, information and website updates.