Houseboats Rentals on Table Rock Lake, Missouri
by Mark & Debbie
(Paola, KS)
Just our thoughts about houseboat rentals on Table Rock Lake, Missouri. We happen to prefer Table Rock because there are very few docks, cleaner water, great fishing, wonderful scenery, several very good restaurants on the water plus you are close to Eureka Springs and Beaver Lake in Arkansas, not to mention 5 miles from Branson, Mo.


The lake itself is a lot less congested than The Lake of the Ozarks, and it's a better environment for families, (in our opinion). Just in case you would like to know, we have rented from Tri Lakes Houseboat Rentals, which is on Table Rock Lake as that is where Kimberling City is. We have rented houseboats there several times and they are great people.
When it comes to boating, my wife and I are admitted boat addicts, we own three sailboats, a small bassboat, a pontoon boat, and are building or second self built houseboat. (don't worry we are taking pictures every step of the way so we can share them with your readers!)  
On a final note, we want to thank you for your site, I visit it everyday now. Keep up the good work. Lets make houseboating a household name in the mid-west and a great way to take a relaxed family vacation thatis still as exciting as you want to make it (for the teenagers who might think it's a lame idea for a vacation).             
Thanks,
Mark and Debbie.
God bless you, and have a merry christmas season.
(ours starts Nov 1 and lasts till at least Jan 5 each year!)
Reply - Answer
Well Mark and Debbie, thank you for the kind words about the website, and the excellent article/post about Table Rock Lakes.
And I'm sure our readers will appreciate the "testimonial" about how you enjoyed and were treated by Tri-Lakes Houseboat Rentals.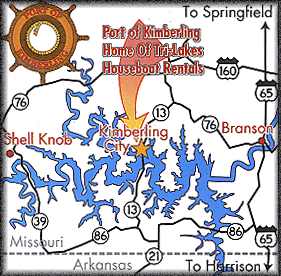 I'm glad to hear that the lake is less congested, cleaner water, and that the fishing is great, since houseboating often entails some peaceful afternoon snoozes, follow by a quick swim, and a freshly caught fish BBQ'd supper :) (just my thoughts on way to spend a great afternoon)
Lastly
, hopefully some of our readers will share and post comments about their Table Rock Lake houseboat experiences. Feel free to use the "Click here to post comments." link found near the bottom of this page.
Thanks again for sharing, IAN from all-about-houseboats
Free Bonus Offer
To show our deep appreciation to all of our readers and visitors, here is the link to our free houseboat magazine, the INSIDER. Go ahead click the book and sign-up, it's free and filled with great articles, tips, information and website updates.