Houseboating on Shasta Lake, California, USA - a real houseboat paradise
by Kathy
(Lake Shasta, California)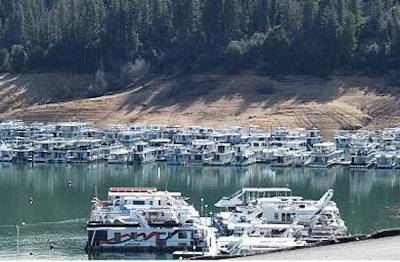 Houseboating on Lake Shasta, California
My favorite place to go houseboating has to be Shasta Lake in California. With over 375 miles of shore line, three rivers and the dam, what's not to enjoy.


Every arm of the lake offers different types of scenery and wildlife to view. You can see Mt. Shasta and Mt. Lassen from different parts of the lake.
The people are great, it's like a giant family. There is even a dinner cruise put on by the Shasta Caverns Tour. I moor my houseboat at Silverthorn Resort so I can change my view every day if I want. Come enjoy with us.
Kathy, Lake Shasta
Reply - Answer
Well Kathy, thanks for sharing your experiences about houseboating on Lake Shasta.
It's true what you say, boaters are some of the best and kindest people around, and especially on one of the worlds most beautiful lakes.
Lastly
, hopefully other readers and visitors from the Shasta Lake area will share and post comments about their Shasta houseboat experiences and tips.
Feel free to use the "Click here to post comments." link found near the bottom of this page.
Thanks again for sharing, IAN from all-about-houseboats
More Information
Free Bonus Offer
To show our deep appreciation to all of our readers and visitors, here is the link to our free houseboat magazine, the INSIDER. Go ahead click the book and sign-up, it's free and filled with great articles, tips, information and website updates.