Houseboat Steering - Where & What to Buy
by Jerry
(Louisville, KY)
I need to install a new steering system on my houseboat. I want to stay with mechanical because of the cost factor.


My houseboat is 46 feet and I can't seem to find a system with cables long enough to fit. I need some info on where to buy this and other parts for houseboats.
Thanks, Jerry in KY.
Reply - Answer
Well Jerry, sorry to hear about having to install a new steering system on your houseboat. As you may know, you have two choices, a hydraulic steering system, or a mechanical steering system.
In regards to your steering cable, you will have to measure the length of your existing steering cable in order to see what size that you need, and you will find some
good replacement steering cables here.
If you're unsure if you should get hydraulic steering or mechanical steering, here is a useful chart to help to see the differences.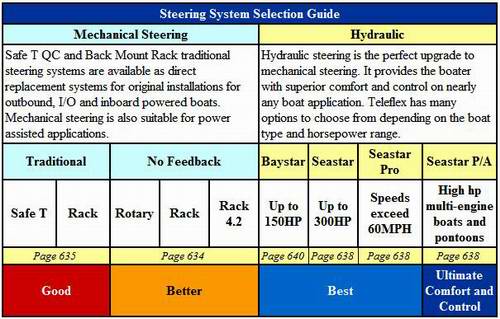 Mechanical Steering for Houseboats:
If you would like to see some
mechanical steering systems.
Hydraulic Steering for Houseboats:
If you would prefer to see some
hydraulic steering systems.
Lastly, hopefully some of our readers will share and post comments or information about their houseboat steering experiences.
IAN from all-about-houseboats
Free Bonus Offer
To show our deep appreciation to all of our readers and visitors, here is the link to our free houseboat magazine, the INSIDER. Go ahead click the book and sign-up, it's free and filled with great articles, tips, information and website updates.