Houseboat Products and Services -
in the 4 Corners New Mexico area
by IAN from www.all-about-houseboats.com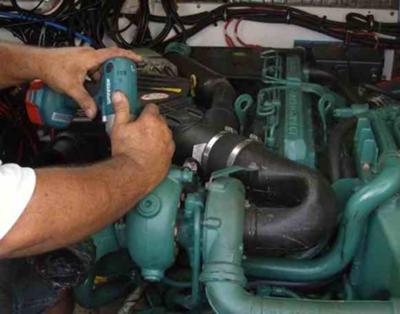 General Marine Mechanics at 4 Corners Marine Services
When it comes to houseboat repair shops, there's some excellent businesses located in the 4 Corners southwest New Mexico area. One business that you should have on your list or telephone number that you should have would be Larry Erickson's number, as he owns the company.


Larry has been offering the Navajo Lake area with a wide array of valuable boat services like general marine mechanics, houseboat pulls, bottom painting, sandblasting, electrical, water system & purification, and sewer & septic systems. Another advantage about Larry, he has all the experience needed to work and repair all the popular makes and models.
One interesting market that Larry has specialized in is "floatation foam" for pontoon houseboats. He has been able to master the installation technique and use closed cell foam technology to make the pontoons virtually unsinkable. With regards to the floatation foam technology, you can usually see Larry throughout the lower NM area, especially Elephant Butte, Lake Powell, and the Lake Havasu areas.
If you're interested in adding Larry to your list of important houseboat repair people, here is his full contact information:
4 Corners Marine Services
Attn: Larry Erickson
Lastly
, hopefully some of our readers and visitors will share and post comments about their houseboat experiences with Larry or their dealings with 4 Corners Marine Services. Be sure to tell Larry that IAN from www.all-about-houseboats.com sent you, he'll take real good care of you!
Feel free to use the "Click here to post comments." link found near the bottom of this page.
Thanks again for sharing, IAN from all-about-houseboats
More Information
Free Bonus Offer
To show our deep appreciation to all of our readers and visitors, here is the link to our free houseboat magazine, the INSIDER. Go ahead click the book and sign-up, it's free and filled with great articles, tips, information and website updates.