Simple House Boat Milage Tips, to
 increase your houseboat mileage.
Is poor houseboat milage getting to you? You'd like to get better mileage out of a tank of fuel, these tips will help to increase your range and MPG. Here's some simple things to reduce your fuel consumption.
"The simple tips helped me to increase my fuel economy,
and to get more MPG out of a tank of gas" Jim, Florida
Be sure to
read these money saving tips
, and
join our free
Houseboat Insider magazine
and get the latest tips, articles, deals & reviews.
Basics on Houseboat Milage
for better House Boat Economy
You're interested in getting better mileage and to save some fuel, but first lets look at the some of the basic physics in weight, hull design and speed.
Fact #1
- Big houseboats will cost more in fuel, than small houseboats.
Fact #2
- The faster you want to get there, the more it will cost in fuel.
Fact #3
- There's many
tips & tricks
that can easily pay for themselves.
After 30+ years of boating, and being a captain that has always had the need to keep a logbook, the conclusion is clear that boats (or houseboats for that matter) have two speeds for ultimate fuel economy, one is hull speed, the other is planing speed (depends on hull shape & engine HP).
Houseboat Milage Chart
Fuel Consumption & Speed results
For those of you who like seeing graphs, charts and specs, you'll enjoy the information provided below. The houseboat is a 31ft Cruise-A-Home, which is similar to a Gibson, Holiday Mansion, Nautaline, Chris Craft.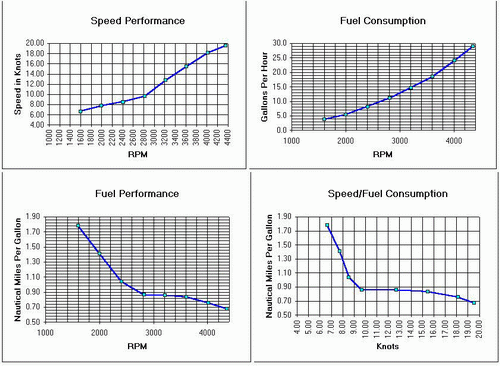 Performance results of a 8.1L GM Vortec, the single engine houseboat (above)
Quick & Easy Houseboat Milage Tips
for better economy & less consumption.
With the price of a gallon of
gas or diesel
constantly rising, the effects are felt throughout the houseboating industry. So naturally anything that can be done to
reduce the fuel cost
of operation is a welcome bonus to boater's around the world. Have a look to see which tips you can try.
Install RHC Propeller(s) you get better handling, more reverse thrust, and faster stopping of the forward momentum with reverse hook cup props.


Carry less weight: heavier house boats require more power to push them through the water, so by removing unnecessary items lightens the load, which translates itself into more mileage per gallon.


Keep engine tuned: With proper annual maintenance of the ignition, sparkplugs, timing, flame arrestor, and choke adjustment will easily pay for itself in fuel economy, starting, performance, and engine life.


Plan your trips: one of the simplest techniques to save fuel is to plan ahead in order to eliminate unnecessary traveling.


Use hull speed: the formula for calculating hull speed is the square root of your waterline, multiplied by 1.34, = the theoretical efficient speed to cruise. Ex: 36ft waterline, sq. root is 6, x 1.34 = 8.04 knots


Planing technique: use enough power to have the houseboat climb up and over the front bow wave and maintain enough speed to ride in front of the wave. (visualize a surfer out surfing ahead of a wave)


Fuel Flow gauge: many houseboats are installing Fuel Flow Meters
that are connected to GPS units which easily calculate and show the actual fuel consumption, MPG, fuel remaining, and estimated range. They will pay for themselves in no time just from the savings in fuel.


Warm up time: an easy tip is to reduce the "warm up time" at the dock before departing. With today's newer engines, computer controls, there's no reason to idle the engines for more than a few minutes.


Less fuel & water: if a gallon of water is @ 10 lbs, and gasoline is @ 8 lbs, by calculating your needs for the trip or weekend, and maybe by having your tanks half filled, you can save yourself carrying 500 or a 1,000 lbs which translates into money in the bank. Be sure to calculate your fuel consumption in order to use the 1/3 rule. (see below)


The 1/3 rule for fuel: is to calculate 1/3 of the fuel to get to your destination, 1/3 to get back, and to have 1/3 as a reserve in the tank.


Angle & trim tabs: proper boat angle helps to reduce the enormous drag that can happen when plowing through the water. Use the Trim & Tilt, and your trim Tabs to get the bow up depending on sea conditions.


Proper propeller (s): for optimum fuel economy, be sure to have the correct pitch propellers to optimize your houseboat milage. You want the engine(s) to be able to attain WOT with the average boat load. Improper propeller(s) are a major cause of poor fuel economy and can cause serious engine damage.

Where to go from here?
Like to go to Houseboat Manufacturers, from Houseboat Mileage
Return to Houseboat Questions & Answers, from Houseboat Milage
Continue Reading Our Popular Pages
Our collection of houseboat ebooks

We just love houseboats, do you?
Join our monthly HB Insider for free