Houseboat Marinas - the Rhea Harbor Marina, Spring City, Tennessee
by Robert B. Brumfield
(Spring City, Tennessee)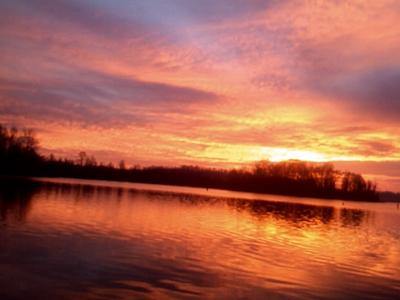 Sunset from my rear deck of the houseboat
When it comes to houseboat marinas, I am fortunate that I stumbled onto this delightful marina nestled in the hills of southeastern Tennessee on Watts Bar Lake.


Being a family owned business of 30 years the proprietors have built a fine reputation with repeated guests that rent cabins and boaters alike. There is always a warm and friendly atmosphere that surrounds the place and it is a pleasure to call this "home".
Being the only live aboard here at the marina I look forward to the weekends when the other houseboaters come to spend time enjoying the lake and the company of each other.
We all fire up the grills and exchange different foods that we have each prepared and afterwards enjoy long conversations lasting deep into the night. It is a wonderful mix of individuals each coming from different backgrounds and all willing to help out each other when needed.
The mixed level of skills among the boaters assures you that whatever problem you might encounter; plumbing, electricity, carpentry...you name it.... will be handled correctly and readily.
This of course gives one great peace of mind knowing any situation can be rectified. The marina has a top notch mechanic on hand at any moment to help with any needs that arise motor-wise as well.
The next time you are in this neck of
the woods make it a point to drop in and see what I am talking about. I think you will be as delighted with this little slice of Heaven as I am. I am really living a dream lifestyle.
Robert B. Brumfield, Spring City, Tennessee
Reply - Answer
Well Robert, I must say that it appears that you really did find a little piece of heaven there, and I know the feeling of those special friendships that happen amongst boaters.
I also wanted to thank you for sharing those pictures with everyone here as a picture is worth a 1000 words. Enjoy every moment :)
Lastly
, hopefully some of our readers and visitors will share and post comments about their houseboat marina experiences.
Feel free to use the "Click here to post comments." link found near the bottom of this page.
Thanks again for sharing, IAN from all-about-houseboats
More Information
Free Bonus Offer
To show our deep appreciation to all of our readers and visitors, here is the link to our free houseboat magazine, the INSIDER. Go ahead click the book and sign-up, it's free and filled with great articles, tips, information and website updates.