Houseboat Living - how to insure and get boat insurance
by Robert Kelly
(Key West, Florida)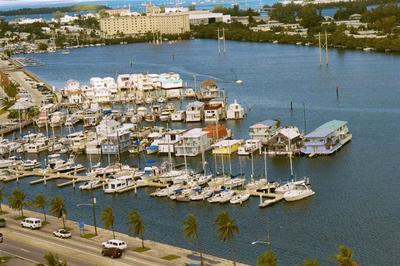 Houseboats in City Marina, Key West, Florida
We live in a city-owned marina in Key West, Florida, on a "floating dwelling", essentially a house (2 Story, 2 BR, 2 BA, 2 outside decks -- and just the two of us, married for 5 years and in Key West since 1999. We bought the house in April 2011, paid a transfer fee to the city for the right to assume the rental slip in which the house was moored since before 2005.

We are required by the terms of our slip rental agreement to maintain liability insurance with a minimum of $300,000 in coverage, for which we pay an annual premium of $650 to a local agent who secures insurance from an underwriter, Scottsdale Insurance, a wholly-owned subsidiary of Nationwide Insurance.

We paid for a marine survey (the house is registered as a vessel by the State of Florida) and have it documented as well-constructed and in good repair. It was built locally in 2002, and we know the original owner as well as some of the people who built it.

From the first we have searched without success for an agent or underwriter who will write a policy for comprehensive homeowners coverage. Since it is a floating dwelling and is moored at a floating pier, flood insurance hardly seems necessary.

Since we're in a hurricane zone, we accept that windstorm insurance is not likely to be available. Even land based homes are finding it difficult, to very expensive, to impossible to get wind coverage.

But comprehensive insurance, which IS available readily for land-based homes, shouldn't pose any more significant risk for a home like ours. In all of my searches, I've only found one company writing such policies, but they are located on the west coast and only write policies west of the Rocky Mountains.

The marina here is a mixture of boats - sail and power; manufactured or houseboats - with and without power for navigation; and floating homes like ours. What they all have in common is that they are all live-aboards.

The nearly 100 slips that make up the marina are all connected to the municipal sewer system via pump-out, and have easy access to solid waste disposal and recycling. Rates for these are included in the slip rental, though they are charged separately on the rental statement.

Metered municipal water and electric service (required), and private cable TV/internet are also available at each slip and are contracted for by individual owners.

We know that the Houseboat Insider has a wide circulation and hope that someone in the audience reading this may know of a company willing to write a fair and reasonable comprehensive property policy for our type of home.

Thanks for any help, Robert Kelly in Key West, Florida.





Reply - Answer
Well Robert, thanks for such an informative post about living on a houseboat in Key West, Florida. I am sorry to hear about your difficulties in getting comprehensive insurance coverage.
You may want to have a look at
our houseboat insurance page
for some sources for marine/house boat insurance. I know some folks have had good results getting house boat insurance here.
Lastly
, hopefully some of our readers and visitors will share and post comments about their houseboat insurance experiences in the Key West or the Florida area.
Feel free to use the "Click here to post comments." link found near the bottom of this page.
Thanks again for sharing, IAN from all-about-houseboats
More Information
Free Bonus Offer
To show our deep appreciation to all of our readers and visitors, here is the link to our free houseboat magazine, the INSIDER. Go ahead click the book and sign-up, it's free and filled with great articles, tips, information and website updates.