Houseboat in dry storage for 3 years...what could go wrong?
by Joe
(Boulder, CO)
I'm about to purchase a quality 1991 Skipperliner houseboat, 53' long from the original owner. The houseboat is in good to fair condition.

However, it's been in dry storage (dry docked) for over 3 years because the owner is older, and has decided to sell his houseboat. The houseboat has been supported by blocking at the four (4) corners.

What should I be concerned about concerning how the houseboat has been stored? What about the age of the gas in the tanks? Rubber engine "boots"?

Thank you, Joe.



Reply - Answer
Well Joe, congratulations on your decision to buy a Skipperliner houseboat. From what I've seen and heard, they make some great houseboats.
Now, as to some help about it being in storage, and what to look for before purchasing it, here goes...
Just some of my recommendations:
1) Be sure to look at our page on
picking a Surveyor to do a marine survey,
and make your offer conditional on the outcome.
2) Be sure to have a complete look at the steel hull, and it's present condition and thickness. You should try to fit into all the areas of the interior hull, since that's where the rust generally starts.
3) The gasoline in the tanks is definitely stale. My first choice would be to drain the tanks and put in fresh fuel. If not, at least put in some octane boost, and fill them up with fresh fuel before starting the engines.
3) All rubber components will have to be check for brittleness, deterioration, and age. Seriously consider replacing the water pump impellers while it's on blocks, much cheaper to do it before launching her. The same goes for the engine boots, since it's easier to verify while on blocks.
4) Depending on heat, ventilation, and humidity levels during storage, you may have a mold or mildew problem. Look into all the nooks and crannies to make sure.
5) Depending on how it was stored, covered or uncovered, check for leaks at the roof, decks, and windows etc... for rain, or water damage.
6) Try to see the houseboat during the daylight hours, and take the time to see that everything works properly.
The list can go on and on and on.., so I recommend our ultimate buying guide.
The Ultimate Houseboat Buying Guide
If you are contemplating buying a houseboat, I strongly recommend getting
our "How to BUY a Houseboat" ebook.
The ebook will save you countless hours, and very likely thousands of dollars when buying a houseboat.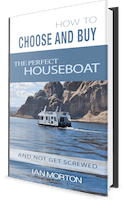 How to Buy a Houseboat

Lastly, I'm sure some of our readers will share and post comments about their houseboat buying and storage experiences.
PS, do let us know if you buy a houseboat, and post some pictures of it, since we all love photo's :)
IAN from all-about-houseboats
Free Bonus Offer
To show our deep appreciation to all of our readers and visitors, here is the link to our free houseboat magazine, the INSIDER. Go ahead click the book and sign-up, it's free and filled with great articles, tips, information and website updates.