Houseboat Holidays - pontoon boat rentals in Ontario and 1000 Islands
by IAN from www.all-about-houseboats.com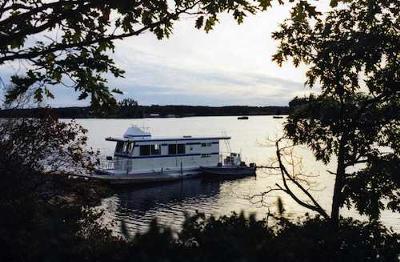 Houseboat Holidays - a great rental vacation
When it comes to a houseboat vacation rental, there's nothing better than vacationing in the 1000 Islands, Gananoque, Ontario, area of Canada. There's houseboats of various sizes available along with a multitude of rental packages.


The season off in early May, and takes the houseboats out late in October to allow the folks who enjoy the relaxed quiet pace that those times offer. Don't forget that before late June and after Labor Day, there are no crowds and that there is excellent fishing, especially around the local 22 islands. You can travel the west towards Kingston and do the Rideau Canal, or stay local and visit the many attractions in the Thousand Islands area located in the St Lawrence River.
The pontoon houseboats range from 38-48 feet, are fully equipped, and are easy to maneuver.The Mercury Big Foot outboard engines are fuel efficient so doing a little traveling sightseeing won't break the bank in gas.
For those who love to fish, the area is filled with excellent fishing especially for pike, muskie, bass, and plenty of huge tasty perch.
For those who like to scuba dive or even snorkeling the Thousand Islands area is renowned for some of the cleanest and clearest water making it ideal for underwater discoveries like for old boat wrecks.
There's some incredible local attractions like the many free
docks and mooring all part of the National Parks, the amazing Boldt Castle, and even some top notch golfing at Smugglers Glen.
From the boats themselves to first class service, they strive to make each vacation a lasting memory for you. If you are looking to book yourself a vacation, I would recommend doing it early, as they become filled rather quickly.
Some of the commonly asked questions are:
* Pets are Welcome
* Fishing License and Boats available
* Boaters Operator Card not required
* There's a boater orientation session included
* Insurance buy-down available
* Free bedding and children's PFD's included
Lastly
, hopefully some of our readers and visitors will share and post comments about their houseboat holiday experiences.
Feel free to use the "Click here to post comments." link found near the bottom of this page.
Thanks again for sharing, IAN from all-about-houseboats
More Information
Free Bonus Offer
To show our deep appreciation to all of our readers and visitors, here is the link to our free houseboat magazine, the INSIDER. Go ahead click the book and sign-up, it's free and filled with great articles, tips, information and website updates.