Houseboat Handling and Training - Experience it from behind the Helm
by Russell
(Fort Myers, Florida)
Like to experience some real houseboat handling and training from behind the helm of a large catamaran houseboat?


My wife and I have a 57 foot Carri Craft Catamaran Hulled houseboat. We live aboard in South West Florida. I have an idea and I'll run it past you to see if it floats.
I was wondering if there would be a market for having potential future houseboaters travel with us for various peroids of time as kind of trainees. A way to get some experience in handling a large houseboat with us.
Running a houseboat of this size is challenging and requires some serious knowledge of currents, wind, reaction time, helm response, and many other things that only being behind the helm will give you.
With an experienced skipper standing next to you showing you the proper ways of docking, following channels, anchoring, reading the water, chart reading, plotting a course, reading the GPS, radar, learning radio procedures, bridge openings, and a hundred other things you can only get while behind the helm.
It would be safer with an experienced helmsman standing beside you.
We have traveled the intracoastal waterway from the northern Chesapeake to Texas. Houseboats like ours are very capable of going anywhere we want to go. This boat has traveled the Great Lakes, down the Mississippi and across the open Gulf, out to the Bahamas and hundreds of other ports of call.
It is a very stable houseboat and any boat sales person who tells you that a houseboat like this is not sea worthy does not know what they are talking about.
A little while ago I was reading something on this site about a boat broker who told someone that they should look into a trawler rather than a houseboat for traveling the lakes, rivers and inter-coastal.
This person has most likely never been on a big, sea-worthy houseboat. Either that or he wants to make much more money by scaring someone into a much more expensive boat.
Houseboats, nay, houseyachts are capable of a lot more than the general public is aware of. Only experience will teach you what your limitations are. You definately have to know the limitations of your particular boat and your own abilities. Nothing but getting out there and doing it will give you that knowledge.
It is not all cruising and partying, there are breakdowns, everyday problems like with getting water, fuel or emptying the holding tanks. Don't forget, there are no plumbers at sea except you! There are good as well as bad things that go with houseyachts.
Well, what do you think? Is it worth looking into offering sort of informal classes while we are traveling? It could turn into a kind of learning cruising vacation.
Think of it, experience a large houseyacht without having to invest many thousands of dollars buying one that you may find out you don't like. Houseboating is definitely not for everyone. It may not be for you. How will you know?
Just a thought, Russell, Florida.
Reply - Answer
Well Russell, I want to say thank you for an excellent post and picture. You have a very sought after model of catamaran houseboat, and I can relate and agree with what you say about real-life boating experience. Theory is Theory, and Experience is Experience.
In regards to your idea of offering real-life houseboat handling and training, well I think it is an excellent idea, and should almost be mandatory with any advanced boating class.
I personally think that anybody contemplating purchasing a large houseboat should have access to some form of "hands-on" practical real-life experience, to truly absorb the feeling, size, and responsibilities.
As to some of the business implications, I think you may have to look some of the small details like your insurance policy coverage, maybe the commercial vessel obligations, and how to attract a paying clientele. Do let me know if I can be of help or assistance.
So in closing, I think it would be a great rare opportunity for any new or upgrading houseboaters to truly get some invaluable priceless experience from an experienced captain, skipper, first mate. This kind of thing can't be found in books or classes :)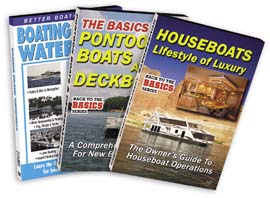 When it comes to educational and informational dvd's, the best ones that I found offer
great tips on purchasing a houseboat, docking, handling, maintenance, repairs,
and so many other topics that are priceless. The knowledge from videos is a small price to pay.
Do you prefer Books?
Are you a person who enjoys reading books and keep them for future reference? Have a look at the collection of boating lessons, tips and guides from our
houseboat book section.
There's books and topics on docking, buying, building, handling, anchoring, and also
First Mate 101
for your spouse.
Lastly
, hopefully some of our readers will share and post comments about their houseboat handling and training experiences. Feel free to use the "Click here to post comments." link found near the bottom of this page.
Thanks again for sharing, IAN from all-about-houseboats
Free Bonus Offer
To show our deep appreciation to all of our readers and visitors, here is the link to our free houseboat magazine, the INSIDER. Go ahead click the book and sign-up, it's free and filled with great articles, tips, information and website updates.