Houseboat Dog Potty - disposable portable training pads for dogs.
by Tim Conley
(Des Moines, Iowa)
Looking at a houseboat dog potty, and wonder about disposable or portable training pads for dogs on house boats? I was curious if any of the fellow readers have tried this portable dog potty called Pup-Head.


It looks like an interesting concept and would not force me to fire up the dinghy and take the dog to shore in the middle of the night when I know all he wants to do is dink around on shore : )
It's not a cheap item so if anyone has used one and their dog adjusted to it, or if someone has a better method, I would love to hear the comments.
Thanks, Tim.
Reply - Answer
Well Tim, thanks for posting your question in the houseboat forums, as I am sure this is a common problem for houseboat owners that have dogs on board?
I am sure that many others face the similar dilemma, having to take their pooch on shore for their daily duties, yet there is some solutions to taking them ashore.
We have two dogs (poodles, 10 & 15 lbs) and we use the disposable training pads for our pets. They come in bags of 30 or 50 disposable pads, and they do their pee and poops on them, and we can simply dispose of the used pads in the trash.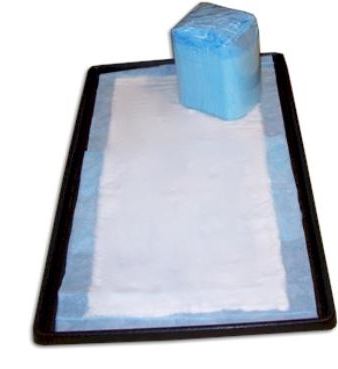 Our two houseboat dogs use these disposable training pads.
We
find the disposable training pads as a cost effective solution to firing up the dinghy and going to shore for them to do their business, especially in the rain :)
Now as to training your dog to do it's business on the pads will require some patience. We first started by taking some of their pee, and putting it on a new pad. We stayed nearby until they did their business and had a treat handy.
Naturally the dogs would sniff it a first and eventually they did a pee on it, and this is where praise and a good dog treat did some positive reinforcement training. Treat and praise will go along way for dog training :)
Now if you're looking for some different ways of handling the portable potty problem, you can find a wide range of alternatives and solutions for
dog potty training pads
at PetSmart.
I would also be curious to hear how other boaters are handling the daily ritual of their pets doing their business, and especially with the artificial grass training pad?
Lastly
, hopefully some of our readers will share and post comments about their houseboat experiences with dog and pets doing their daily potty training. Feel free to use the "Click here to post comments." link found near the bottom of this page.
Thanks again for sharing, IAN from all-about-houseboats
Free Bonus Offer
To show our deep appreciation to all of our readers and visitors, here is the link to our free houseboat magazine, the INSIDER. Go ahead click the book and sign-up, it's free and filled with great articles, tips, information and website updates.