The 4 Houseboat Buying Tips, to read before you buy a boat.
Right now you're likely super excited and looking forward to getting a boat in the water, and I know that feeling. Now before you run out and spend thousands on a boat, let's do some important homework first.
* Buy a Boat so GREAT,
that your Budget, & Family will love,
and here's my 4 tips for you.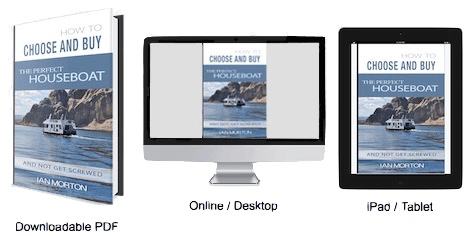 ---
Here's 4 crucial tips on how to 'not overpay, and not get taken'.
---

TIP #1 - People buy the wrong boats, do it right the 1st time...
Studies show that more than half the buyers end up getting the wrong boat, and shortly afterwards end up regretting their purchase. Often, the next year they try and sell their boat and absorb a substantial financial loss due to purchase costs, setup/survey/finance fees, moving expenses, upgrades to the boat, and lose a lot of their precious time, etc...



TIP #2 - Don't over-pay for a boat, techniques to save you $$$
In today's economy, sticking to your budget has become routine and is part of our daily lives. Why spend more than you need to, in order to get your dream boat. The tips in my ebook can EASILY save you a large portion off your boat buying-budget. The money that you'll save (recoup) could easily pay for your marina fees or boat fuel for a few years to come.



TIP #3 - Too many boat buyers 'get taken', don't be a statistic...
Sadly, people everyday 'get taken' buying boats. After running a popular houseboat website for 10 years, it still upsets me to see so buyers unknowingly get taken advantage of by unscrupulous sellers and find themselves in serious financial trouble. I'll show you WHAT to look for to avoid hardships.



TIP #4 - You can reduce month's of research into 1 simple step.
You know how time-consuming and confusing it is searching the 1000's of webpages looking for all kinds of houseboat buying information. You surely have better things to do with your spare time, so why not reduce or eliminate all that work/research into 1 simple step. Download the ebook and catapult your boat-buying journey on the right track. The 1st Step is easy, start by reading the eBook.
Buying the WRONG boat is too easy,
here's some common buying mistakes
Common Buying Mistakes
You DON'T want to buy a boat and...
... afterwards feel you paid too much for it.
... later wished you got a different model.
... feel you got over-sold by a salesperson.
... wish you had researched beforehand.
... suffer from huge financial loss & liability.
... later realize it was an impulse purchase.


Prepared Boat Buyers
You DO want to buy a boat and...
... realize that you got a super great deal.
... know you got exactly what you wanted.
... the whole family is super thrilled with it.
... start planning your vacation & holidays.
... saved enough to pay your dock & gas.
... see you spent much less than planned.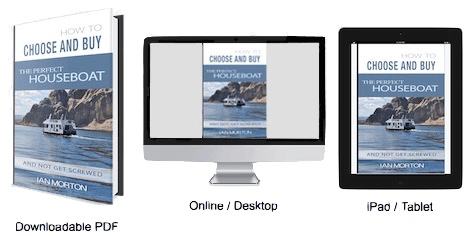 Return to the TOP of the 4 Houseboat Buying Tips page

Return to Houseboat Questions and Answers from this page

Return to the Houseboat Classifieds from this page.
Continue Reading Our Popular Pages
Our collection of houseboat ebooks

We just love houseboats, do you?
Join our monthly HB Insider for free