Houseboat Buyers Beware: big issues and need help
by Jeff
(Austin TX)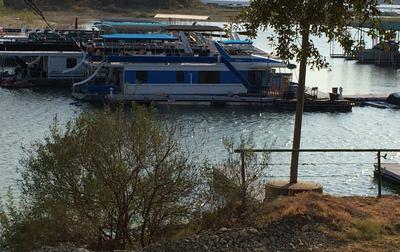 The houseboat is GOOD from far - but FAR from good!
Houseboat buyers beware, as I have big issues and need some help. I'm a first time houseboat owner (and last time). I bought a houseboat from a guy who was/is basically a criminal. I will take the responsibility because it is at the end of the day - "Buyer Beware".

They had a guy do an "inspection" and it turns out it was just a buddy who pocketed the money. I've had it less than 2 years, and here is just a few of the issues:

* It leaks in the roof and the sides.
* Major septic smells that are basically incurable.
* Engine is blown - not drivable.
* The 12 volt system stopped working.

What I need help on is getting this thing ready to sell so I can get the hell out... I WAY overpaid and I am not worried about reclaiming any money, just getting out of this nightmare.

Here is what I need help on as I am broke, and looking for some do-it-yourself remedies:

* Best recommendations to seal the roof.
* Best recommendations for repainting the exterior.
* Best recommendations for any other reasons this septic system continues to smell.
* Best troubleshooting tips for a 12-volt system.

This is a 1994 Stardust 68' (I've attached pictures).

Thank you so much!

This is not how I imagined owning a houseboat would be...., Jeff from Austin TX



Reply - Answer
Hi Jeff, thanks for posting in the houseboat forums. I am so sorry to hear about your troubles with your houseboat purchase.
I agree with what you said about "buyer beware" as this can apply to any major purchase you make (used boats, and even new purchases).
That's why I can't stress enough to all potential boat buyers to
download our Houseboat Buying Guide
to give themselves the tools & knowledge to make a great purchase.
As to tips to solve some of your issues, use our "site search" function to find articles that will help you get your boat back into shape. Don't get discouraged, as each issue has a solution, you just have to do it one step at a time.
* You can surely find where the water infiltration is happening, and easily repair it.
* You can use some marine paint, or at least some good outdoor paint to inexpensively repaint the exterior areas.
* Often septic smells are caused by leaks, poor ventilation, or the lack of odor killing enzymes in your black tank.
* For the 12v system, check the fuses, bad connections, battery quality, ground connections, or the battery charger.
Lastly
, hopefully some of our readers and visitors will share and post comments about their related houseboat buying experiences and tips.
Feel free to use the CLICK HERE TO POST COMMENTS link found near the bottom of this page.
Thanks again for sharing, IAN from all-about-houseboats
More Information
Free Bonus Offer
To show our deep appreciation to all of our readers and visitors, here is the link to our free houseboat magazine, the INSIDER. Go ahead click the book and sign-up, it's free and filled with great articles, tips, information and website updates.