Houseboat BBQ - choosing a barbecue or gas grills for cooking on boats.
by John
I am looking at installing a BBQ on our houseboat, and wonder if gas grills are a good choice for cooking on house boats?

I'd like to find the ultimate BBQ for entertaining our friends, family, and guests. I have seen some people use the stainless marine BBQ's, and others that have some impressive luxury barbeque grills.

I can't decide whether I want a charcoal burning BBQ, a propane gas grill, or a smoker model.

Any help is appreciated, John





Reply - Answer
Well John, congratulations on your decision to install a BBQ on your houseboat. If you're looking for the ultimate BBQ and you want a unit that will provide years of service, there's some new models that will be a real conversation starter.
My wife and I have had a few over the years, and we've now installed a quality propane gas grill, and it's a real pleasure to use. As an extra bonus, we love BBQ-ing, and there's nothing better than having all the different aromas, and eating all the great meals that she can create on it. She is definitely the master chef on this boat :)
Now lets have a look at the types of gas grills, some installation tips, and where to find some unique and really cool barbecues.
Popular Types of BBQ's
Some of the popular models that are found on houseboats are the propane gas grill types. Some folks use the electric, wood, smoker, or charcoal style barbecues. A lot of it depends on your intended purpose, and ease of use. The easiest BBQs to use are the propane gas grills, and the electric barbecues.
Check Local State Regulations
The BBQ's that need a little more effort to use have to be the wood, charcoal, and the smoker models, yet one benefit has to be the unique flavor and taste. Personally, I wouldn't want a charcoal or smoker style grill/bbq on a boat as they would inevitably pose a security risk. I like the fact that we can quickly shut-off a gas grill (should the need arise).
NOTE: You will want to check with your local state regulations regarding use of grills other than propane or electric on a boat.
BBQ Installation Tips
When it comes time to decide where and how to install it, here are a few tips to make it all a success. One of the biggest points to remember is that boats are prone to having the wind on their bow.
If it is possible, try and install it on the stern (rear) of your houseboat, this way the smoke can be directed overboard, instead of smoking out everyone and the inside of the boat when you're out at anchor.
You can run these marine gas grills from those green 1lb propane bottles, or you can hook them up to a 20lb propane tank. The 20 lb tank option is a lot more economical, yet having a few of the 1lb tanks for emergencies (running out of your 20lb tank) can be very helpful.
Naturally you'll want a secure installation that doesn't move, and remember to have your propane tanks properly installed so that it "vents" overboard in case of a leaking valve.
Finding the Right Barbecue
If you're tired of the cheap, poor quality, run of the mill BBQ's and you're looking for either a quality unit, or possibly a real fancy model, you now have a few alternatives to choose from.
Buying a Good Marine Gas Grill
When it comes to finding a good gas grill for your houseboat, you'll find a wide selection of reasonably
priced propane marine BBQ gas grills for houseboats here.
You can see a small selection of grills below: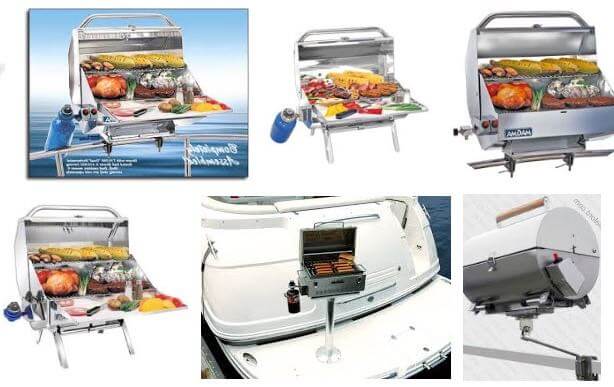 Various marine gas grill styles and models
Lastly
, hopefully some of our readers will share and post comments about their houseboat BBQ & GAS GRILL installations and experiences. Feel free to use the "Click here to post comments." link found near the bottom of this page.
Thanks again for sharing, IAN from all-about-houseboats
Free Bonus Offer
To show our deep appreciation to all of our readers and visitors, here is the link to our free houseboat magazine, the INSIDER. Go ahead click the book and sign-up, it's free and filled with great articles, tips, information and website updates.