Homemade Houseboats - enjoying a great home built pontoon boat
by Gaston M. Côté
(Quebec City, Canada)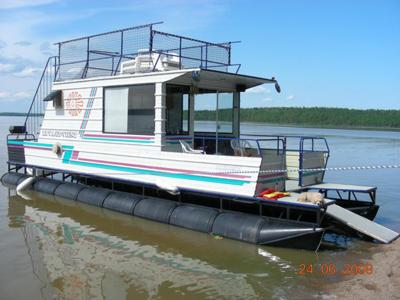 Homemade Houseboats - home built pontoon boat
Looking on the Internet with the hopes of finding a well built, good looking and affordable houseboat I kept coming back to the photos of this one.


In the meantime I enquired about other boats located on various Quebec rivers but none caught my fancy like this one. The exterior looks were uninteresting, the interior decoration was awful, the facilities were poorly designed etc...
I contacted the original owner-builder and had a good feeling from the start. This was a work of passion by an extremely competent welder and machinist and his wife who built it for themselves.
The owner had often repaired manufacturer made boats and he and his wife innovated and corrected many design flaws to make it more comfortable, practical, etc...
I flew from Quebec City to LaSarre in Abitibi to seal the deal. We spent the first summer on Lac-St-Jean, learning the basics skills.
This summer we will be navigating the great St-Maurice River, more than 80 kms of wilderness. It is our summer villa, with a 360 degree view.
Gaston Michel Côté, Quebec City.
Reply - Answer
Bonjour Gaston, félicitations pour ton nouveau bateau :)
Congratulations on your houseboat purchase, and I can see from the pictures that you are fortunate to be boating in a very secluded and beautiful area. Something tells me that you will be beaching her often for some great weekend getaways.
Lastly
, hopefully some of our readers and visitors will share and post comments about their homemade pontoon houseboat experiences.
Feel free to use the "Click here to post comments." link found near the bottom of this page.
Thanks again for sharing, IAN from all-about-houseboats
If you're still looking for information, you can try our
search function
, found at the bottom of the left Nav bar.
Free Bonus Offer
To show our deep appreciation to all of our readers and visitors, here is the link to our free houseboat magazine, the INSIDER. Go ahead click the book and sign-up, it's free and filled with great articles, tips, information and website updates.