Gibson Houseboats - Gibson 50' - Twin 454 Crusaders on Lake Conroe in Texas
by Bob Brink
(Conroe, TX, U.S.A.)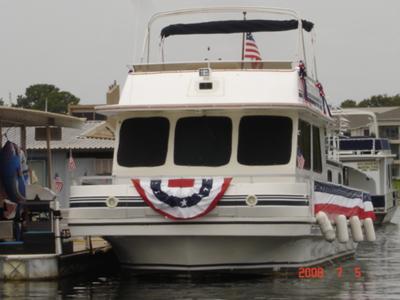 Gibson Houseboats - 4th of July
Our first houseboat was a pontoon style, 45 footer with a single outboard. Although we loved that boat for over eight years, it was difficult to maneuver with only one engine. As you can see our favorite holiday is the July 4th weekend.


When a friend of ours decided to sell his 2000 model Gibson 50 footer, we jumped on it. We sold our old boat and moved to a different marina that could handle a boat of this size.
Our main reasons for owning a houseboat is two-fold. First, it gives us a place to stay (much like a cabin or condo on the water) during our fishing trips. And, secondly, a houseboat dock can be just like a street in any town.
During the warm months, we have dinners, cruises, parties, events to celebrate and generally enjoy the company of fellow boaters. Our "street" has many wonderful people "residing" there on weekends and holidays. They have become our extended family.
Although we don't have children, we do have two Golden Retrievers who love to swim, so I built a liftable ramp & we spend hours throwing their favorite toys into the lake & watching them jump off the dock & fight over which one is going to retrieve them for us to throw again.
Our favorite holiday is the 4th of July. We decorate the boat &
dock & join in the on-the-water boat parade annually. Afterwards, we serve dinner for all in a pot luck fashion, followed by a fantastic fireworks display that is almost directly over our boat at the dock.
The display is fired from less than 200 feet from our boat. Annually, we have about 60-70 people who attend the event, which is sponsored by the boaters on our dock & the wonderful people at Walden Marina.
Bob Brink, Conroe TX
Reply - Answer
Well Bob, congratulations on your great houseboat purchase. I can see that you lucked out in many ways, great boat, fantastic view, super boating neighbors, and 2 very lucky dogs... :)
Lastly
, hopefully some of our readers and visitors will share and post comments about their Gibson houseboat experiences.
Feel free to use the "Click here to post comments." link found near the bottom of this page.
Thanks again for sharing, IAN from all-about-houseboats
Free Bonus Offer
To show our deep appreciation to all of our readers and visitors, here is the link to our free houseboat magazine, the INSIDER. Go ahead click the book and sign-up, it's free and filled with great articles, tips, information and website updates.