Gibson houseboating around Tennessee River and Kentucky Lake, TN, USA
by Cleve Turner
(Decaturville TN, USA)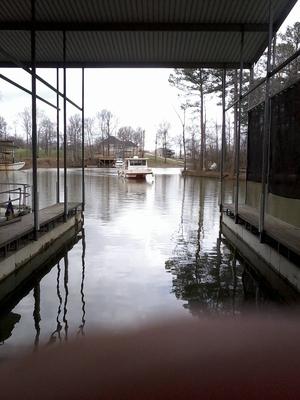 The Gibson arriving at our home slip for the first time
We own a 42ft Gibson houseboat and do our houseboating near the Tennessee River and Kentucky Lake area. The Tennessee River between Interstate Highway 40 and Pickwick Dam is an area with lots of fish, light barge traffic and only a moderate number of recreational boaters.


Mermaid Marina is located within walking distance of Tennessee River Golf Club which is a fine 18 hole golf course. They have no-ethanol fuel and a restaurant (although it is only open on weekends).
Our boat is a 42' Gibson Standard and it is powered by two 225HP Mercruiser I/O drives. It is kept in a 50' covered slip. The marina has a cellular repeater which allows phone service for most providers although Sprint does not have service here. There is a nearby full service marine dealer.
The river is about 45 feet deep in the channel at mean summer pool there is not a swift current here and many small sandy beaches where you can pull up to and anchor for a day in the sun and sand. The river is normally clear with very little floating debris.
Our marina has a number of live-aboards who always keep an eye on things. The marina owner/harbormaster is very helpful and very generous.
If you have a dead battery or need something you can call him either on the phone or radio and he will put a battery on his golf cart and come jump you off. The charge for this: $0.00.
There is a free launching ramp and it is permissible to tie your fishing boat either in your covered slip or in a nearby unused slip
at no charge if you have your houseboat there.
On the downside, the marina store lacks basic items such as milk and bread. It is eight miles to the nearest full service grocery store.
I would recommend this stop to any "looper" that may be passing by. The fuel dock can accomodate houseboats and cruisers to 100' and has diesel as well as gas.
Just sharing my thoughts, Cleve Turner
Reply - Answer
Well Cleve, I want to thank you for sharing such a well put together post about houseboating at the Tennessee River and the Kentucky Lake area. It seems that you have found yourself a great area to go fishing, golfing, and beaching the boat.
It sounds like it is also a great place for boaters doing the Great Loop to stop in and re-fuel, restock on supplies, and maybe play some golf .. :)
Lastly
, hopefully some of our readers and visitors will share and post comments about their Tennessee River and Kentucky Lake houseboat experiences and tips.
Feel free to use the "Click here to post comments." link found near the bottom of this page.
Thanks again for sharing, IAN from all-about-houseboats
More Information
Free Bonus Offer
To show our deep appreciation to all of our readers and visitors, here is the link to our free houseboat magazine, the INSIDER. Go ahead click the book and sign-up, it's free and filled with great articles, tips, information and website updates.