Custom Houseboat Graphics - vinyl numbers, names, logos, and decals.
by Ian
(www.all-about-houseboats.com)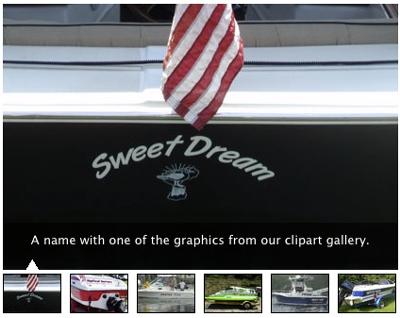 Custom Houseboat Graphics - names, numbers, and decals.
When it comes to custom houseboat graphics, you can spruce up house boats with custom vinyl boat names, registration numbers, decals, logos, and boat lettering of all styles, and best of all, you can now do it very inexpensively, and have the results that the professionals get.


There's a great website that lets you design
and preview your boat logo graphic creation, and play with all the styles, colors, and backgrounds. There's a wealth of information and tips on how to get that perfect look that you want for your boat.
Cheap Off the Shelf, Pre-Packaged Decal Kits
I have personally bought one of those pre-packaged decal kits of vinyl numbers and letters found in neighborhood stores, and I simply wanted to put registration numbers on a houseboat that we had bought.
The project ended up taking forever, and after fiddling for hours trying to get the vinyl decals off the backing, I ended up never getting the whole thing to line up properly and equally spaced. I think my wife still has a picture of it as proof to use for future reference :)
And to boot, I also tried for hours to get the letters and numbers to line up properly and look professionally done. My wife still makes jokes about the look and outcome.
I also realized that after spending 5-6 months in the sun and rain, the store bought do-it-yourself kits just don't last. What a shame, all of that work for nothing.
Needless to say, I now don't fool around with those pre-packaged DIY lettering kits anymore, especially after I got to try out these custom designed one-piece boat lettering.
The comparison off the off-the-shelf kits is like night and day, and when you consider the ease, professional look, and the excellent final results that the
custom designed lettering provides, it just doesn't compare or justify the small difference in price. The "custom design your own" system is worth every penny.
Custom Designed Houseboat Graphics
You can easily create your own style and look, depending on what you're designing. You can even build multiple copies in order to put them on both sides of your boat.
When you receive the decals or boat lettering, you simply the peel back the adhesive backing and line up the ends and smooth it out. Voila, a perfect job, and it's done in minutes. The whole thing is in one piece, which makes the installation a breeze, and naturally makes you look like a pro.
So whether you're interested in houseboat graphics for boat names, state registration numbers, or custom designed lettering logos and decals, you can surely find what you need on the
boat lettering and graphics site.
Show us your Houseboat Graphics and Lettering
If you do end up putting some graphics, decals, or boat name lettering on your houseboat, do take a picture of your finished installation, and we'll
showcase the designs and creations here
for others to see.
Lastly
, hopefully some of our readers will share and post comments about their houseboat graphic lettering experiences. Feel free to use the "Click here to post comments." link found near the bottom of this page.
Free Bonus Offer
To show our deep appreciation to all of our readers and visitors, here is the link to our free houseboat magazine, the INSIDER. Go ahead click the book and sign-up, it's free and filled with great articles, tips, information and website updates.