Chris-Craft 33' Aquahome Houseboat
by John
(Bowmanville, Ontario, Canada)
We've recently acquired our 1969 Chris-Craft Houseboat and have it at home to redo the interior over the winter months. It currently is white with blue striping accents.


As we dismantle (tear-it-apart) we're discovering at lot of yellow counter tops and cabinet doors, also on the bottom half of the exterior of the cabins.
Would anyone have original pictures of this houseboat? It's 33' X 12'6" with twin 6 Cylinder Buick's and Volvo ODs.
Actually, anything about this house boat would be greatly appreciated.
Thanks, John.
Reply - Answer
Well John, congratulations on your "new" Chris Craft houseboat, and thank you for sending in a picture of your clean looking boat. I'm sure it's a sad day taking the houseboat out for the winter :(
One of my neighbors had a Chriscraft, and he was very pleased with the performance, and the amount of useable interior space.
There's presently some articles on our site about the Chris Craft Aquahome houseboats that may be of interest to you.
Chris Craft Aquahome Houseboats
Chris Craft Houseboat parts and stanchions.
Here is a few pictures that I had of his boat that you may find interesting, one of his dash board / helm, and the other of the interior.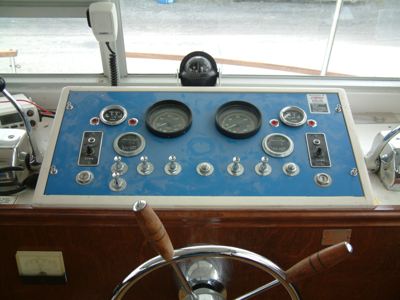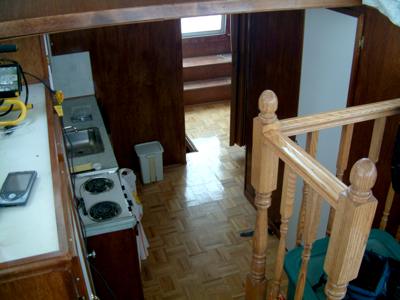 Lastly
, hopefully some of our readers will share and post comments about their Chriscraft houseboat experiences. Feel free to use the "Click here to post comments." link found at the bottom of this page.
Thanks again for sharing, IAN from all-about-houseboats
Free Bonus Offer
To show our deep appreciation to all of our readers and visitors, here is the link to our free houseboat magazine, the INSIDER. Go ahead click the book and sign-up, it's free and filled with great articles, tips, information and website updates.