Next monday is Independence Day and it's a fantastic opportunity to enjoy the long weekend with family and friends. We wish you all great weather and plenty of memorable celebrations :)

In June we saw the beginning of the summer season, and just recently had the summer solstice on June 22, the longest day of the year. We should be all prepared to enjoy the "dog days of summer"... :)

We want to take a moment to wish our Canadian houseboaters a happy Canada Day holiday on July 1st. May everyone enjoy a safe holiday weekend!


---



Modern Futuristic Houseboats


As the world changes, so do the future styles and designs of houseboats. The future is now, and these non-traditional looking houseboats are now ready to be purchased and navigated throughout our waterways. Are you ready to go to take this futuristic looking boat out for a ride?


---



Inspect It, Insure It, and Move It.


The beginning of the boating season is a busy time of year as I get hundreds of emails asking where/who/what to do in regards to inspecting, insuring, or moving houseboats.

So if you are in the midst of buying a boat, here are some links for where to find a Marine/Houseboat Surveyor, or who can provide Houseboat Insurance, or who handles Houseboat Transport.



---



Houseboat Safety Guide


Being a certified SAR member and captain for the Coast Guard Auxiliary, the whole experience has taught me plenty about boating safety. I can often see that many of our rescue missions were easily preventable.

Accidents seem to happen when you least expect it, and are especially hard on folks that are ill prepared for them. Being prepared is one of the simplest ways to deal with mishaps that can arise.




Here is a simple refresher Houseboating Safety Guide to use before leaving the dock. Don't become a statistic and show up on a Coast Guard rescue report :(


---



Where to Find the Money?


Every year there's boaters upgrading or simply buying their first boats. When it comes to boat loans or financing for that houseboat purchase, where do you go to find the expertise and great rates?


---



You're First Time Here?


If you're new to the Houseboat Insider, welcome and do enjoy your stay.
Safe Houseboating, Ian from www.all-about-houseboats.com







* New to Houseboating? Start Here. *
Welcome and congratulations on arriving at the fastest growing online houseboat community. So if you're new, just curious, a total beginner, or even a long-time boater, you'll find the free Houseboat 101 Guide extremely helpful in guiding you to the answers of your questions about houseboating.

Here's some links to tips and information on buying a boat, transporting a boat, building a houseboat, insurance for houseboats, marine surveys, classified ads, and houseboat rentals.






---
---
* 100's of Houseboating Articles. *
Below is a summary of all the categories where you will find hundreds and hundreds of articles, tips, guides, and comments from the websites members, visitors, and creator. Feel free to add your comments and ideas.



If you have a story, tip, or article to share, you can post it here.




---
---
The END for now, see you next edition.
---
---
Custom Search


You have houseboat questions?
We now have a great service.
Answers via email or telephone


---
We Welcome You All to
All-about-Houseboats
To show our appreciation for
visiting us, here is a free gift.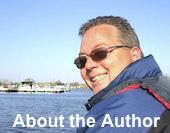 IAN the editor & webmaster



Free Houseboat Magazine
Free, online, and loaded with
all the Cold Hard Facts that
you want & need to know!