The last monday of May is Memorial Day, a time to commemorate and remember all the military people we have lost. May we one day put an end to this senseless loss of life.

On a brighter note, the last weekend of May is also a great time to relax and enjoy those wonderful houseboating moments with family and friends. What kind of boating activities do you have planned for your weekend?


---



Where to Find the Money?


Every year there's boaters upgrading or simply buying their first boats. When it comes to boat loans or finacing for that houseboat purchase, where do you go to find the expertise and great rates?


---



4 Corners Marine in New Mexico


If you do your boating in the 4 Corners area of New Mexico, who would you turn to for your houseboat maintenance and repairs? This is where Larry Erickson our latest sponsor comes in, as his company offers a large variety of needed services and products to local houseboaters.



---



Inspect It, Insure It, and Move It.


The beginning of the boating season is a busy time of year as I get hundreds of emails asking where/who/what to do in regards to inspecting, insuring, or moving houseboats.

So if you are in the midst of buying a boat, here are some links for where to find a Marine/Houseboat Surveyor, or who can provide Houseboat Insurance, or who handles Houseboat Transport.



---



You're First Time Here?


If you're new to the Houseboat Insider, welcome and do enjoy your stay.
Safe Houseboating, Ian from www.all-about-houseboats.com







* New to Houseboating? Start Here. *
Welcome and congratulations on arriving at the fastest growing online houseboat community. So if you're new, just curious, a total beginner, or even a long-time boater, you'll find the free Houseboat 101 Guide extremely helpful in guiding you to the answers of your questions about houseboating.

Here's some links to tips and information on buying a boat, transporting a boat, building a houseboat, insurance for houseboats, marine surveys, classified ads, and houseboat rentals.






---
---
* 100's of Houseboating Articles. *
Below is a summary of all the categories where you will find hundreds and hundreds of articles, tips, guides, and comments from the websites members, visitors, and creator. Feel free to add your comments and ideas.



If you have a story, tip, or article to share, you can post it here.




---
---
The END for now, see you next edition.
---
---
Custom Search


You have houseboat questions?
We now have a great service.
Answers via email or telephone


---
We Welcome You All to
All-about-Houseboats
To show our appreciation for
visiting us, here is a free gift.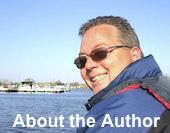 IAN the editor & webmaster



Free Houseboat Magazine
Free, online, and loaded with
all the Cold Hard Facts that
you want & need to know!