Hello



June has come and almost gone, yet Independance Day is just around the corner. We want to wish all our loyal readers a great Independence Day holiday weekend.


Celebrate the July 4th weekend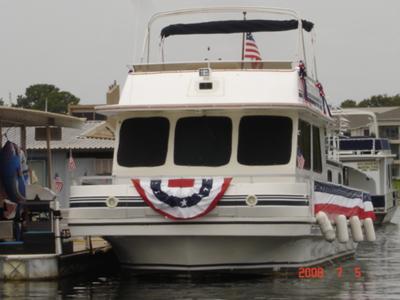 The July-4th Independence Day holiday weekend is traditionally a great time for boaters to celebrate with family and friends around the lake.


We want to take this moment to wish you great weather, lots of laughs with your friends & family, and to be safe. :)
Get the Kids Outdoors
For our readers that have children, the school year is winding down, so its a perfect time to prepare the boat for summer fun. As the weather and water are warming up nicely, it's an excellent time to show the kids that it's OK to put their tablets & smartphones down to enjoy some fishing, swimming, and plenty of other fun houseboat activities.

You can always give them the choice to "get out" and enjoy the outdoor activities, or to wash the houseboat. That should motivate them to find something interesting to do outdoors around the marina or lake…. :)




Some amazing reader submitted articles…
Now for something a little different, we're fortunate to have received some great articles posted by some of our visitors and readers. Have a look at the links below:

* Houseboats in Storage - what could go wrong?

* Who manufacturers diesel houseboats?

* Any information on Myacht houseboats?

* Solar power installations for houseboats.



Discount Prices at our Liquidation Center.
Be sure to visit our Houseboat Liquidation Center for discount pricing on boat parts and accessories. We appreciate your support as it helps us grow the useful information and articles on the website.

Sincerely, IAN (editor of www.all-about-houseboats.com)





* New to Houseboating? Start Here. *
Statistics show that not all the Houseboat Insider subscribers actually own a houseboat. Many of our new readers maybe looking to buy a used boat, or maybe looking to buy a new boat, or maybe to transport a boat, or looking to finance a boat, or looking for a great vacation rental deal?

Here's some other important links to tips and information on buying a new boat, transporting a boat, building a houseboat, insurance for houseboats, marine surveys, classified ads, and houseboat rentals.


Here are the Most Popular Links Below:

* Our houseboat classifieds section.

* Our buying a new houseboat section.

* Our buying a used houseboat section.

* Our houseboat insurance section.

* Our houseboat loans section.

* Our houseboat transport section.

* Our houseboat rental specials page.

* Our boat plans and building page.

* Our parts and accessories page.

* Our wind and solar power section.

We hope you find the links useful, and do enjoy the website, IAN…


---
---
* The Latest Recent Articles: *
---
---
A NEW or USED houseboat, which house boats are best to buy?

a New or Used Houseboat, which is the best house boats to buy and why make a smart decision.
Continue reading "a New or Used Houseboat, which House Boats are Best to Buy?"
---
---
---
---
---
---
---
---
---
---
---
---
---
---
---
---
---