If a NEW houseboat was on your agenda, what model, size, or options would you be ordering? Would you want a fiberglass or aluminum model? What "extra equipment" would you want to have onboard?

Speaking of extra equipment or the "options list", would you want a bow thruster, generator, solar panels, water purifier, windlass, dinghy davits, small computer office, jacuzzi, flybridge, AC heat pump, propane appliances, gas or diesel engine(s), inboards or outboards, low maintenance exterior, night vision camera, radar, chartplotter, and the list goes on, and on, and on.... :)

Now that I have stimulated your "houseboat wish list", take a moment and tell me what style or make of houseboat you would like to buy? Don't forget to tell me the "extras" that you would like to have onboard... :)

Now that we are at the end of September, I see that Columbus Day is just around the corner. I hope you all have a great Columbus Day holiday, IAN.


---


Marinas around the World? I love hearing from readers about what you like about the area where you do your houseboating? You can tell me about "where in the world you houseboat" or what you "love about your marina"?



---



Your First Time Here?


If you're new to the Houseboat Insider, welcome and do enjoy your stay.
Safe Houseboating, Ian from www.all-about-houseboats.com







* New to Houseboating? Start Here. *
Welcome and congratulations on arriving at the fastest growing online houseboat community. So if you're new, just curious, a total beginner, or even a long-time boater, you'll find the free Houseboat 101 Guide extremely helpful in guiding you to the answers of your questions about houseboating.

Here's some links to tips and information on buying a boat, transporting a boat, building a houseboat, insurance for houseboats, marine surveys, classified ads, and houseboat rentals.






---
---
* 100's of Houseboating Articles. *
Below is a summary of all the categories where you will find hundreds and hundreds of articles, tips, guides, and comments from the websites members, visitors, and creator. Feel free to add your comments and ideas.



If you have a story, tip, or article to share, you can post it here.




---
---
The END for now, see you next edition.
---
---
Custom Search


You have houseboat questions?
We now have a great service.
Answers via email or telephone


---
We Welcome You All to
All-about-Houseboats
To show our appreciation for
visiting us, here is a free gift.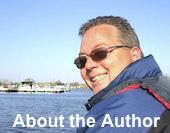 IAN the editor & webmaster



Free Houseboat Magazine
Free, online, and loaded with
all the Cold Hard Facts that
you want & need to know!