It's always a pleasure to have a holiday weekend just around the corner, be it the Columbus Day in the US, or Thanksgiving up in Canada. With that in mind, we would like to wish all our readers a great holiday weekend.

Since we're now into the fall season, you likely have a few projects in mind. In this issue we'll look at tips on boat storage, winterizing, security, and some important safety systems to keep or protect your investment.


Safety & Security Systems: new technologies to protect or save a boat.

Winterizing Houseboats: tips and tricks to help you prepare for the cold.

Find Small Boat Storage: where to find small houseboat storage areas.

Blocking or Dry Docking: lifting and how to block or support your boats.

What's on Special Sale:
big holiday sale on supplies, parts, accessories.

Search our Website: search and browse our 1,000 pages of tips or tricks.



If you're new to the Insider, we welcome you and do enjoy your stay.
Safe Houseboating, Ian www.all-about-houseboats.com




---
---
* New to Houseboating? Start Here. *
Welcome and congratulations on arriving at the fastest growing online houseboat community. So if you're new, just curious, a total beginner, or even a long-time boater, you'll find the free Houseboat 101 Guide extremely helpful in guiding you to the answers of your questions about houseboating.

Here's some links to tips and information on buying a boat, transporting a boat, building a houseboat, insurance for houseboats, marine surveys, classified ads, and houseboat rentals.






---
---
* 100's of Houseboating Articles. *
Below is a summary of all the categories where you will find hundreds and hundreds of articles, tips, guides, and comments from the websites members, visitors, and creator. Feel free to add your comments and ideas.



If you have a story, tip, or article to share, you can post it here.



---
---
* Your Support Helps You & Others. *
As the website continues to grow and as we help more and more people, many of our readers and visitors are looking for ways to help support the site. I do believe in the power of people and strive to keep the site free.

FREE EBOOK: Has our informative houseboat website helped you in regards to houseboating? We have updated our "about us page" to spotlight how the site has grown and how your support can help.

The easiest and free way to support the site, is by simply making your normal boating purchases through one of our affiliate sponsors of marine supplies, gifts, books, videos & DVD's, and the ever so popular houseboat gift certificates.

If you are fortunate and happen to have a boating related business, you can take advantage of our 50% discount and advertise with us, and gain some highly valuable targeted traffic to increase your sales.

Again, I'm grateful and I want to thank everyone for allowing me to help you and so many others enjoy the wonderful world of houseboating, IAN.












---
---
The END for now, see you next edition.
---
---
Custom Search


You have houseboat questions?
We now have a great service.
Answers via email or telephone


---
We Welcome You All to
All-about-Houseboats
To show our appreciation for
visiting us, here is a free gift.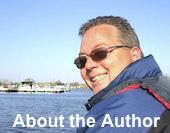 IAN the editor & webmaster



Free Houseboat Magazine
Free, online, and loaded with
all the Cold Hard Facts that
you want & need to know!