Hello



March has been a busy month weather wise for many parts of the country. The kids are finishing "spring break" and tax season is getting into high gear. Let's take a moment to break away from the day-to-day life, and fantasize about the upcoming boating season...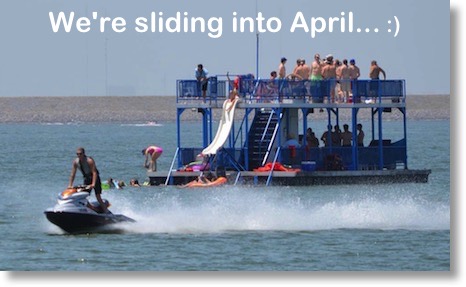 ---
* The TIP of the Month *
Houseboating is constantly growing in popularity and there's so many new things to see & learn. This is where we can help you "get the most" out of your boats & boating activities.


The world's first retractable thruster

Let's be honest, handling a houseboat can often turn into a HIGHLY stressful situation that removes any fun out of docking or maneuvering. What if there was an inexpensive, and easy to install solution to allow you to DOCK like a Pro!



On a personal note, I too have a bow thruster on my houseboat, and it absolutely made a HUGE night & day difference in my boat control. It's my best piece of equipment, and has removed ANY & ALL the stress when in really tight difficult situations.


That's our Tip Of The Month, so let's return to our newsletter...
Sincerely, IAN
www.all-about-houseboats.com

---

* Reader Submitted Posts & Articles *
Every month we highlight some of the best reader submitted articles to showcase various houseboat related topics. Click a link to start reading.
* What is the best heat & cooling thermopump for a houseboat?
* Choosing a pontoon or a conventional houseboat hull design?
* Can houseboats freeze in water during the frozen winter months?

---
* New to Houseboating? *
Statistics show that not all the Houseboat Insider subscribers actually own a houseboat. Many of our new readers may be looking to buy a houseboat, and others may be searching the classified ads, or may be looking to buy a new boat, or may be wanting to transport a boat, or looking to finance a boat, or looking for a great vacation rental deal?

Here's some other links to tips on buying a boat, transporting a boat, building a houseboat, insurance for houseboats, marine surveys, classified ads, and houseboat rentals. We hope you find the links useful, and do enjoy the website, IAN.


---
---
* Our Popular Website Pages *
---
---
The END for now, see you next edition.