Hello


* A Word from the Editor *
I want to start off this months newsletter by saying a big THANK YOU for participating in last months survey. Again, we had an overwhelming group of you provide information which is priceless for future website topics. Thanks again for your participation... :)


Houseboat TIP of the Month
You know I always like to share good news with you, and today I have to tell you how happy I am to have rubber snubbers on our boats dock lines. Last week, we were on a neighbors boat having drinks and the evening weather was terrible.

It was a windy and stormy evening (nothing out of the norm), but what surprised me the most was that they (my boating neighbors) didn't have any snubbers on their dock lines and we had a HARD TIME not spilling our drinks (and we don't want to be spilling drinks... :)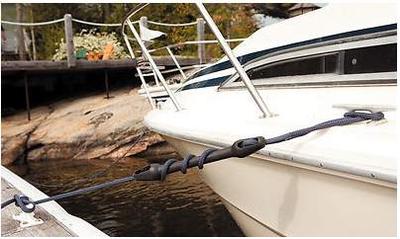 Rubber Snubbers = simple to use, and highly effective



Now you might be saying to yourself, "just buy better/heavier glasses for your drinks...", but I have to say that the constant slamming, strain, and abuse that the boat, cleats, and lines are being subjected to is not healthy (and also very annoying, if not slightly dangerous).

Boy, do I ever feel like getting them a pair of snubbers as I never realized HOW MUCH they help to reduce that annoying & damaging snap that you get when the boat reaches the end of the dockline slack. I think my neighbors birthday is next month, so it may be the perfect gift... :)

Now let's return to our regular programming... :)

Sincerely, IAN
www.all-about-houseboats.com
---
* Reader Submitted Posts & Articles *
Every month we highlight some of the best reader submitted articles to showcase various houseboat related topics. Click a link to start reading.
* Any salt water houseboats found on the Mexico side of the world?
* How often to maintain or coal tar epoxy houseboat pontoons?
* Any houseboat energy saving tips for computers, GPS, phones...?
---
* New to Houseboating? *
Statistics show that not all the Houseboat Insider subscribers actually own a houseboat. Many of our new readers may be looking to buy a houseboat, and others may be searching the classified ads, or may be looking to buy a new boat, or may be wanting to transport a boat, or looking to finance a boat, or looking for a great vacation rental deal?

Here's some other links to tips on buying a boat, transporting a boat, building a houseboat, insurance for houseboats, marine surveys, classified ads, and houseboat rentals. We hope you find the links useful, and do enjoy the website, IAN.




---
---
* Popular Website Pages *
---
---
Tow your Toys, PWC, Dinghy etc... with your houseboat

What better than being able to tow your toys, dinghy, pwc, etc... while doing it safely, and without all the hassle
Continue reading "Tow your Toys, PWC, Dinghy easily with a houseboat"
---
---
---
---
---
---
---
---
---
---
---
---
---
---
---
---
---
---
---
---
---
---
---