Hello



They say "April Showers, for May Flowers", so from the looks of the weather, everything will be in FULL BLOOM next month. Now about houseboating, are you already back on the boat, or are you getting it all ready for the season?


Who here WANTS to live on a boat?
Hypothetically speaking, if you could 'snap your fingers' and instantly move away from your "city/land based lifestyle", WOULD YOU GO and live on a houseboat? Yes....?


That's the question of the day
In order to go live on a houseboat, I presume you'd want to research all the topics beforehand? That's where we want to give you all the information you might need to make that marvelous decision, so take 10 SECONDS to help us out by answering a 3 question survey (it'll tell us what you want to know).


We thank you in advance
Running a website is a lot of work but houseboating is truly my passion, so we want to thank you for participating and being a Houseboat INSIDER subscriber. We hope you thoroughly enjoy the site.

PS: If you're contemplating living on a houseboat (today, or when you retire), don't forget to take our 10 second survey.



Sincerely, IAN
www.all-about-houseboats.com

---
* Reader Submitted Posts & Articles *
Every month we highlight some of the best reader submitted articles to showcase various houseboat related topics. Click a link to start reading.



* Are houseboats really safe during lightning, and electrical storms?

* Can spending time on a houseboat bring real peace and enjoyment?

* Any repellents to protect the houseboat from mice, and rodents?



---
* New to Houseboating? Start Here. *
Statistics show that not all the Houseboat Insider subscribers actually own a houseboat. Many of our new readers may be looking to buy a houseboat, and others may be searching the classified ads, or may be looking to buy a new boat, or may be wanting to transport a boat, or looking to finance a boat, or looking for a great vacation rental deal?

Here's some other links to tips on buying a boat, transporting a boat, building a houseboat, insurance for houseboats, marine surveys, classified ads, and houseboat rentals. We hope you find the links useful, and do enjoy the website, IAN.




---
---
* Our Popular Articles *
---
---
---
---
---
---
---
---
---
How to BUY a Houseboat in 1 easy step, the ultimate boat buying guide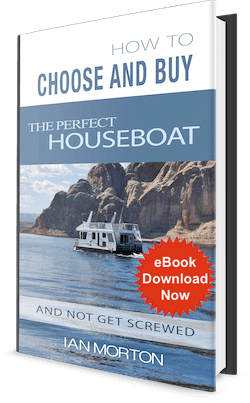 "Knowledge is a Powerful Thing", so download it before risking 1000's of $$$ on a boat. The steps on what boats to buy, and what to look for before...
Continue reading "How to BUY a Houseboat in 1 easy step, the ultimate boat buying guide "
---
---
---
---
---
---
---
---
---
---
---
---
---
---
---
---
---