Hello



I have some GOOD NEWS to report, Linda has been much more involved in the day-to-day operations of the website. You can see the improvements in the new visual INSIDER format that we are using, this is mostly Linda's doing (ain't she great)... :)

Now as to it being already the end of Sept, it just blows my mind (time flies). We have been having a real HEAT WAVE for the last 2 weeks, and we feel that we are still in summer mode, yet the reality is that fall arrived a few days ago... :(

Enough with all this, let's get into this month's newsletter right away, IAN.






---
* The TIP of the Month *
Houseboating is constantly growing in popularity and there's so many new things to see & learn. This is where we can help you "get the most" out of your boats & boating activities.


What's the RIGHT WAY to lift a houseboat?

Houseboats have come in a wide variety of styles and makes, that is what makes them great for everyone... :)

In the 70's, they made some models with "removable catwalks" which could create an issue for removing them from the water. I would presume the SAFEST WAY would be with a hydraulic trailer as there would not even touch the catwalks.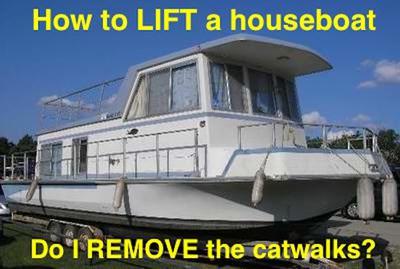 What would you do? Would you remove the catwalks, or leave them on? Or, would you opt for using a hull style hydraulic trailer to haul the boat out. Do you use a sling style travel lift while the catwalks are installed, or not?




That's our Tip Of The Month, so let's return to our newsletter...



Sincerely, IAN
www.all-about-houseboats.com

---
* Reader Submitted Posts & Articles *

Every month we highlight some of the best reader submitted articles to showcase various houseboat related topics. Click a link to start reading.

* An UPDATE on the amazing amphibious driving houseboat project

* The project of rebuilding and remodeling of a steel houseboat

* Any ways for a disability pensioner to get a houseboat loan?


---
* New to Houseboating? *
Statistics show that not all the Houseboat Insider subscribers actually own a houseboat. Many of our new readers may be looking to buy a houseboat, and others may be searching the classified ads, or may be looking to buy a new boat, or may be wanting to transport a boat, or looking to finance a boat, or looking for a great vacation rental deal?

Here's some other links to tips on buying a boat, transporting a boat, building a houseboat, insurance for houseboats, marine surveys, classified ads, and houseboat rentals. We hope you find the links useful, and do enjoy the website, IAN.



---
---
* Our Popular Website Pages *
---
---
The END for now, see you next edition.