Hello



Hi It's Linda, wife of Ian, the creator of this website all-about-houseboats.com.

I hope wherever you are reading this you and your family are staying safe.

I am also excited to let you know our new ebook How to Live on a Houseboat is now available.

It was a labor of love that Ian was passionate about completing.

He wanted to share what houseboat living is really like and why it was so important to him and what you need to do if you want to do it right.

Let's get going and dive into this month's newsletter right away.

Linda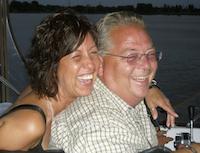 PAGE TOPICS:

1 Your Tip of the Month

2 New to Houseboating?

3 Popular Website Pages



This months insider tip is on how to solve (or greatly reduce) that annoying rocking & rolling motion that we get from waves or wind.

A frequent problem with boating is how to solve that rocking & rolling motion that we get when we anchor out (or at your dock for that matter). You know that rolling sideways motion we get from strong wind, or the rolling waves from passing boats.

Years ago I was fed up with the constant rolling, and found a solution...





---
Here's Some Amazing Reader Submitted Articles…
We're very fortunate to have received some great articles posted by our visitors and readers.

Have a look at the links below:

* Visitor Survey: Is it a floating home or traditional houseboat?

* Tip: How to maintain and make your batteries last longer.

* How to impress & entertain guests on our houseboat roof?

* Should you buy a boat from a broker, dealer, or privately?




---
* New to Houseboating? Start Here. *
Statistics show that not all the Houseboat Insider subscribers actually own a houseboat. Many of our new readers may be looking to buy a houseboat, and others may be wondering what it would be like to live on a Houseboat, or may be looking to buy a new boat, or may be wanting to transport a boat, or looking to finance a boat, or looking for a great vacation rental deal?

Here's some other important links to tips and information on buying a boat, transporting a boat, building a houseboat, insurance for houseboats, marine surveys, and houseboat rentals.


Here are the Most Popular Links Below:



* Our "how to buy" a houseboat section.

* Our buying a new houseboat section.

* Our houseboat insurance section.

* Our houseboat loans section.

* Our houseboat transport section.

* Our houseboat rental specials page.

* Our boat plans and building page.

* Our parts and accessories page.

* Our wind and solar power section.

We hope you find the links useful, and do enjoy the website, Linda


---
---
* The Latest Recent Articles: *
---
---
A NEW or USED houseboat, which house boats are best to buy?
a New or Used Houseboat, which is the best house boats to buy and why make a smart decision.
Continue reading "a New or Used Houseboat, which House Boats are Best to Buy?"
---
---
---
---
---
---
---
---
---
---
---
---
---
---