Hello



I am Linda, wife of Ian, the creator of this website all-about-houseboats.com . I have some sad news to share with you…..after battling lung cancer for the last year and putting up a valiant fight, Ian passed away in March of this year.

Ian loved this newsletter, website and was passionate about being a house boater and I know he loved sharing his passion with you all.

It was his desire that this website continue on and remain active and viable.

Although I can never match Ian's vast knowledge, I have surrounded myself with a team of house boaters and other experts so that we can continue to honor Ian's wishes to share his passion for houseboats with this community.

Thank you for your support and understanding and we look forward to continuing Ian's legacy on all-about-houseboats.com

Since the summer is coming to an end, that means that there is less than a month until the fall. You want to get a head start to prepare for any bad weather, we seem to be experiencing more and more each year.

Let's get going and dive into this month's newsletter right away.

Linda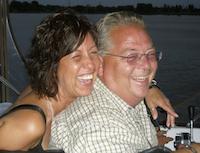 ---
* The TIP of the Month *


Preparing your Houseboat from impending bad weather is always important. If anything Hurricane Florence has taught us how much we need to be prepared. Not only our houseboats, but more importantly keeping our loved ones safe. Our thoughts and prayers go out to the those affected by Hurricane Florence. From hurricanes to flash floods, keeping your home safe and secure during these turbulent times means taking a few simple precautions. And there's no better time than the present.

We have had a lot of questions on this subject on getting prepared. So here is the best way to get ready to face bad weather: 7 Essential Tips to Best Prepare Your Houseboat
---
* New to Houseboating? *
Statistics show that not all the Houseboat Insider subscribers actually own a houseboat.

Many of our new readers may be looking to buy a houseboat, or may be looking to buy a new boat, or may be wanting to transport a boat, or looking to finance a boat, or looking for a great vacation rental deal?

Here's some other links to tips on buying a boat, transporting a boat, building a houseboat, insurance for houseboats, marine surveys, classified ads, and houseboat rentals. We hope you find the links useful, and do enjoy the website, IAN.



---
---
* Our Popular Website Pages *
---
---
The END for now, see you next edition.