Hello



Many of you recently congratulated us on our "new born" (ebook), but I think we should let you know that we now have "Twins" instead... ;)


Great Success...!!!

It was just 10 days ago that we announced the arrival/birth of the PDF version of the eBook, and I am amazed at how many of you downloaded it. Thank you for all your support and positive feedback, as it means a lot that you appreciate the hard work involved.


Today's "twins update"...

The reason for "today's update" is that the ONLINE version is now available, along with the included Christmas special. The Online version is identical to the download PDF version, yet it doesn't need any "pdf reader software" and is immediately available from just about ANY device.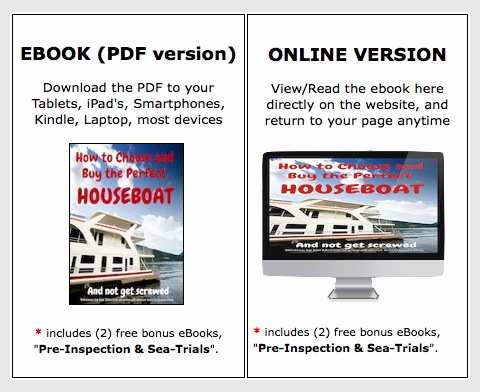 The visitor survey told us....

We want to thank everyone who participated in the "Information Survey" last year, as the visitor survey results told us that about half of you want the houseboat information "directly online/webpage".

So it's with great pleasure that we are announcing today, the new Online version of the How to Buy a Houseboat ebook is now live ONLINE... :)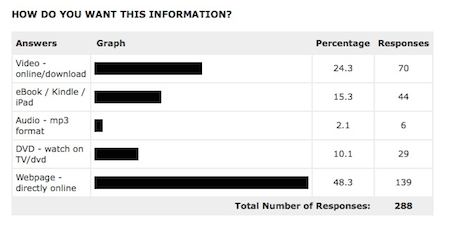 Thinking of getting a boat?

If you're in the market for a boat, be sure to learn the information in the step-by-step guide, on how to not get screwed "taken" when you're out there looking for a houseboat. Think of it as my Xmas gift to you.


Why an Online version...?

The beauty and advantage of the "Online version" is that it can be accessed, viewed, and read directly online from ANY device (with an internet connection) and from ANYWHERE in the world. You don't need to download, sync, or forget to bring it with you. You can even read it in "offline mode", so internet is not needed.

Read more about the Online version here...




Have a look at our "latest twin".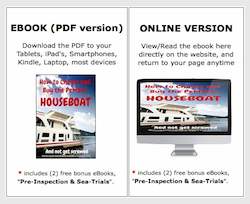 Sincerely,

Ian Morton
www.all-about-houseboats.com