Tucker Houseboats - classic well built boats
by Ray Russell
(Martinsville, IN. (for now))
I was looking for a River Queen or Pluckebaum in my price range (I prefer METAL boats). Been looking for a couple of years. I had a 40' RQ with V Drives. Awesome boat.

The RQ's and Plukys I looked at were just not quite what I wanted for a "live aboard" and crusing. All needed a lot of TLC.

I went marina hopping and a broker told me he had a 45' Tucker for sale. Never heard of them. We walked down the docks where a lot of BIG boats were slipped.

We got to the Tucker and it was like love at first sight. He didn't tell me this was the boat. A much older boat but it looked like it had just come from the factory.

Tuckers are ALL custom made and whoever had this one built, must have had it built for me. As we boarded her, I immediately started to look for faults. We went stem to stern, Fly bridge to the engine room floor. I could find NONE.

The helms, the instrumentation, the floor plan, the extra equipment, the twin diesels, the extra fuel tank, the HUGE Gen set,the marine A/C reverse heat, closets, stateroom, the galley, the salon, even the head was exactly what I was looking for.

Then we got serious and I started to check out the structual aspects. She is built like a tank. PERFECT. The broker told me how the owner liked to show off in the harbor and turn this boat in her own length.

Just like I used to do with my River Queen. I'm a show off too, even at my "advanced" age (can't do this with IO's) She will even walk sideways.

It took less than a half hour and I had a deposit on this beautiful lady. (if ya snooze, ya loose). Final closing is in 4 days and then I will take her home and spend the rest of my life on her.

I will be adding a raised bow next year to handle a little rougher waters. She and I are "going places". Other than that, she is a true "turn key" vessel. I'll post some pic next week.
Will post more about her next spring when the lady and I get much better acquainted. Ain't no life, like BOAT life.
Ray Russell from Martinsville, IN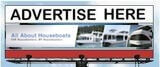 You can advertise here for pennies a day!
Are you a boating related business and want to increase sales and profits with targeted traffic?
Act now to get our 1/2 price sale, limited offer
Reply - Answer
Well Ray, congratulations on your new acquisition, as I also had considered a Tucker purchase.
They are extremely well built boats that can handle just about anything that the inland waterway can through its way. Do enjoy your new boat :)
Lastly
, hopefully some of our readers and visitors will share and post comments about their Tucker houseboat experiences.
Feel free to use the "Click here to post comments." link found near the bottom of this page.
Thanks again for sharing, IAN - from
www.all-about-houseboats.com
If you're still looking for information, you can try our
search function
, found at the bottom of the left Nav bar.
Free Bonus Offer

To show our deep appreciation to all of our readers and visitors, here is the link to our free houseboat magazine, the INSIDER

Go ahead and sign-up, it's free and filled with great articles, tips, and information.
Don't worry, your email is safe with us.