Trailerable Houseboats- towing a longer houseboat with a big truck
by Russell
(North Fort Myers, Florida)
I saw this houseboat launch off a modified trailer pulled by a Dually truck. I run over to the marina where I am staying and I helped him tie up.

The owner said he regularly towed it from up north down here to North Fort Myers. Last year he decided to leave it here in storage. It sits on a triple axle trailer and looks to be near 35 feet. I'll check later on the actual length and weight.

Now, I have been reading a lot of the trailerable stories and was wondering why everyone seems to want little houseboats?

Bigger = more comfort and more toys. A dually truck is a reasonable vehicle for towing and with a 4 door cab is quite comfortable driving.

I say, "Don't get a smaller boat, Get a BIGGER truck to tow with".

Russell, North Fort Myers, Florida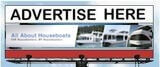 You can advertise here for pennies a day!
Are you a boating related business and want to increase sales and profits with targeted traffic?
Act now to get our 1/2 price sale, limited offer
Reply - Answer
Well Russell, I can see your point, why go small, when you can go longer, especially with a good sized tow vehicle.
If you find out the weight, let us know in the comments section.
Lastly
, hopefully some of our readers and visitors will share and post comments about their longer larger trailerable houseboat experiences.
Feel free to use the "Click here to post comments." link found near the bottom of this page.
Thanks again for sharing, IAN - from
www.all-about-houseboats.com
If you're still looking for information, you can try our
search function
, found at the bottom of the left Nav bar.
Free Bonus Offer

To show our deep appreciation to all of our readers and visitors, here is the link to our free houseboat magazine, the INSIDER

Go ahead and sign-up, it's free and filled with great articles, tips, and information.
Don't worry, your email is safe with us.