Sun Tracker Regency Party Cruiser Houseboats
by Lynn
(Benton, Ky)
I have not seen Sun Tracker Party Cruiser Pontoon houseboat's mentioned in brand names. We now live 15 minutes from Kentucky Lake and are looking for a small houseboat for day and long weekend use.

The Sun Tracker Pontoon seems so reasonably priced. I am having a hard time finding a used one in the Kentucky/Barkley Lake area. Maybe there is a better brand name to look into?

Thanks for your help, Lynn.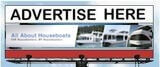 You can advertise here for pennies a day!
Are you a boating related business and want to increase sales and profits from targeted traffic?
Act now to get our 1/2 price sale, limited offer
Reply - Answer
Well Lynn, I totally agree that the Sun Tracker Pontoon Houseboats should be on the
houseboat manufacturers list,
and I have made the change.
You're right about the Sun Tracker being a great day or weekend type of pontoon houseboat for a couple our small family looking to getaway.
If your looking to find some used Sun Tracker's, have a look at our
Houseboat Classifieds
page, you will see some sources for good houseboat for sale websites. You may very well find the gem that you're looking for.
Lastly, hopefully some of our readers will share and post comments about their Sun Tracker Pontoon houseboat experiences.
IAN - from
www.all-about-houseboats.com