Add Solar Panels for Houseboat Power,  
and use solar energy, less generator fuel
If you add solar panels for houseboat power and use solar energy, less generator fuel consumption is one of the immediate money saving benefits. Solar power is fast becoming one of the eco-friendly ways to save fuel, have less noise, and really helps the environment.
With gasoline fuel prices increasing each year and all the costs involved in maintaining a generator, the time has come to consider and install a clean, quiet, and free renewable alternative solar power source.
Looking to get some solar panels?
Are you looking to add or install some solar panels for houseboat power? If you are ready to consider going solar, we have an
industry leader in the marine solar panel field
.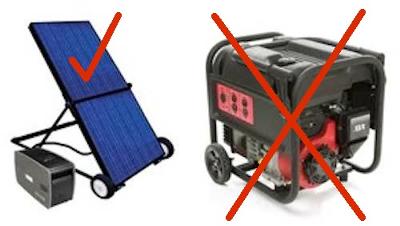 Houseboat Solar Panels - solar power, less generator fuel
Advantages of Solar Power on Houseboats
* Clean quiet power everyday to fill your system
* Low maintenance with little system downtime
* Reduced or total non use of onboard generator
* Years and years of trouble free low-cost operation
* No emissions like traditional gas diesel generators
* Boating neighbors are pleased with no noise or exhaust
* Huge cost savings compared to generator usage or electric utility
Matching the Solar Panels for Houseboat Power
Your power requirements can range from light load needs like for lighting, TV's, computers, fans, etc.... all the way up to heavy duty loads like refrigerators, heating, air conditioning, battery chargers, inverters, microwaves, coffee machines, etc...
Various Applications for Solar Panel Power
You can install solar systems to go from simple trickle battery charging for storage needs, all the way up to full load needs for those weekend getaways disconnected from the power grid.
Solar is Ideal for Houseboat Rental Fleet
Installing solar panels and using the sun's free energy is fast becoming a cost effective decision in many boats these days. Solar power has proven itself in the marine, motorhome, rental fleets, automotive, residential, industrial, and commercial applications.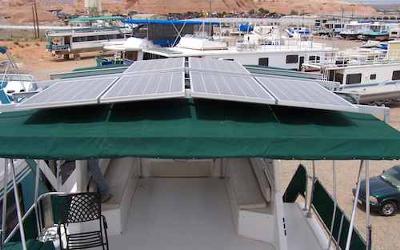 Houseboat Hard Top - ideal location for solar panels
Quality Products = Do it Right the First Time!
A trouble free solar system requires carefully choosing the right components, and not picking them based on simply their price points. A trouble free and high power solar system provides years and years of renewable energy, yet a poorly designed system very quickly disappoints its owner.
We have Specialists to Help You to Design It
We know specialists who specialize in designing and engineering the complete solar system. They match the components like the different types of solar panels, controllers, inverters, management centers, and safety protection items. All the components have to be carefully matched to handle the loads exerted on the battery storage banks.
Ready to Add Solar Panels for Houseboat Power?
If you are ready to go ahead with the benefits of a perfectly matched solar power system, we can put you in touch with
one of the solar leaders in the industry
.
They can analyse your needs, look at your budget, understand your expectations, design the properly sized system, quote you factory direct pricing, and likely even install the complete system for you.
Get Started with Solar Power Today
When it comes to installing a quality solar package, you want to go to the leaders in the industry. You'll be well taken care of along with some of the best service in the business.
Install Solar Panels for Houseboat Power
Return to the Houseboat Parts and Accessories page
Return to the Wind and Solar Powered Houseboats page
Return to TOP of the Solar Panels for Houseboat Power
Continue Reading Our Popular Pages
Our collection of houseboat ebooks

We just love houseboats, do you?
Join our monthly HB Insider for free