Our Houseboat Marina - Taylor Creek, Lake Okeechobee, Florida USA
by Daniel W Moore
(Okeechobee, Florida)
Our favorite houseboat marina is Taylor Creek, 1/2 mile from Lock S-193, Lake Okeechobee, Florida USA. In reality my favourite marina is my own dock at my home.

I have 250 ft of waterfront, a 22 ft pontoon, a 34 ft Nautaline houseboat with tail board and twin 115 hp Yamaha 4 strokes. Somehow the tape measure shows 40 ft from bow to back side of engine cowl. All I need to make it complete is pump out station which I am working on.

We have taken our houseboat all the way down to the fibreglass, and we renewed everything. We will be heading for a shake-down voyage the end of September for a 3 night trip to the Atlantic ICW. Upon return we will correct the flaws and finish off the interior.

Photos to come later as laptop does not contain them. We have redesigned the interior to function for us, Joyce and I. The mid deck is inside helm and u-shaped kitchen with only under counter cabinets to keep all the windows clear. We like to cruise and eat, and we like being together on our vessel.

Yes it is a vessel, as it will soon be listed as a Coast Guard Aux facility on call to the Coast Guard. My wife and I are both in the Coast Guard.

Daniel and Joyce, Okeechobee, Florida.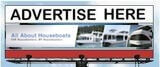 You can advertise here for pennies a day!
Are you a boating related business and want to increase sales and profits with targeted traffic?
Act now to get our 1/2 price sale, limited offer
Reply - Answer
Well Daniel and Joyce, it sounds like you are both very well setup there, and I see that your favorite marina has all your "toys".
I hope your trip down the ICW goes well, and that you have nothing but a safe voyage.
Lastly
, hopefully some of our readers and visitors will share and post comments about their houseboat experiences.
Feel free to use the "Click here to post comments." link found near the bottom of this page.
Thanks again for sharing, IAN - from
www.all-about-houseboats.com
More Information
If you're still looking for information, you can try our
search function
, found at the bottom of the left Nav bar.
Free Bonus Offer

To show our deep appreciation to all of our readers and visitors, here is the link to our free houseboat magazine, the INSIDER

Go ahead and sign-up, it's free and filled with great articles, tips, and information.
Don't worry, your email is safe with us.