Houseboat Hot Water Heater - do tankless water heaters work well?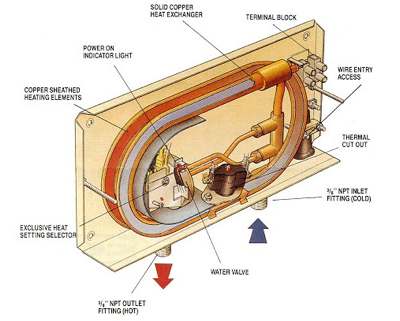 Hot Water on Houseboats - tankless water heaters?
Looking at hot water heaters on houseboats, and wonder if the tankless water heater works well on a house boat? Can I install a tankless water heater on a 1971 43' Drifter houseboat?

Thanks for any help.



Reply - Answer
Welcome to the houseboat forums, and thanks for asking a popular question about tankless water heaters.
When it comes to hot water on houseboats, you have a lot of different options for producing and supplying hot water.
1) You can install an
electric marine hot water tank
.
2) You can install a regular small home grade hot water tank (not explosion proof), and do not install it in the engine compartment. IMO, I don't recommend a household unit.
3) If your houseboat has propane appliances, you can
install a propane hot water tank
, vented to the outside exterior.
4) And another very popular installation is a
on-demand, tankless hot water heater
.
Now depending on the tankless heater model, they have different specifications when it comes to current draw. The amount of amperage that the unit will draw when it comes time to produce hot water.
On your houseboat, you would have to look at your electrical panel, and see what you have as an entrance, single or dual 30 amps, or a 50 amp entrance?
I would imagine that you have a single 30 amp power Dock Shore line entrance. You would have to look at the specs on the heater units, as there are models that draw 15 or 20 amps on 120 volts.
Lastly
, hopefully some of our readers will share and post comments about their hot water systems, and any tips or experiences with their houseboats. Feel free to use the "Click here to post comments." link found near the bottom of this page.
Thanks again for sharing, IAN - from
www.all-about-houseboats.com
If you're still looking for information, you can try our
search function
, found at the bottom of the left Nav bar.
Free Bonus Offer

To show our appreciation to all of our readers and visitors, here is the link to our free Houseboat Insider magazine.

Go ahead and sign-up, it's free and filled with great articles, tips, and information.
Don't worry, your email is safe with us.