Free Houseboat Plans - where to find build, cheap or free house boat plans?
by Brian
(Lake Ozark, MO)
Where can I find free houseboat plans, or cheap inexpensive house boat plans? As spring is here, we want to start building a boat for some fishing and overnight trips.

We would like to build a small plywood boat, that has some of the basic features such as a small kitchen, bathroom, and maybe a bed for sleeping.

I'm on a limited budget, have the tools and time, but am willing to spend what it takes to start building a houseboat soon...

I hope I can find something, Brian.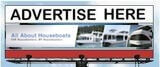 You can advertise here for pennies a day!
Are you a boating related business and want to increase sales and profits with targeted traffic?
Act now to get our 1/2 price sale, limited offer
Reply - Answer
Well Brian, congratulations on your plans to build your own houseboat. I don't know if you're interested in building a pontoon, catamaran, planing, or a full hull style boat.
You can have a
look at some different houseboat designs or styles
to get an idea as to what best suits your needs.
When it come to building your own boat, you can find some
cheap, inexpensive, or even free houseboat plans on the market.
If you are looking for
plans to build a small plywood houseboat
like the ones below, these models are easy, and quick to build yourself.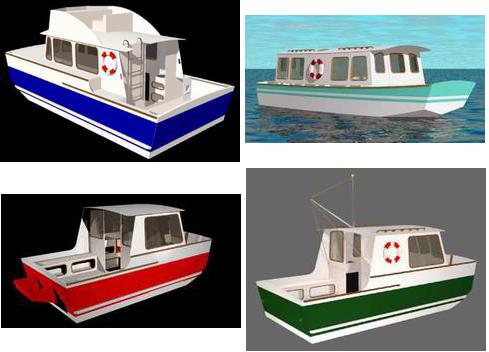 Images of houseboats are from Bateau.com
Lastly
, hopefully some of our readers and visitors will share and post comments about their houseboat plans, or building a boat experiences.
Feel free to use the "Click here to post comments." link found near the bottom of this page.
Thanks again for sharing, IAN - from
www.all-about-houseboats.com
If you're still looking for information, you can try our
search function
, found at the bottom of the left Nav bar.
Free Bonus Offer

To show our deep appreciation to all of our readers and visitors, here is the link to our free houseboat magazine, the INSIDER

Go ahead and sign-up, it's free and filled with great articles, tips, and information.
Don't worry, your email is safe with us.