Donn's Boat Shop - your one stop solar shop for solar power on houseboats
by IAN from www.all-about-houseboats.com
Today we are showcasing our newest site sponsor, Donn's Boat Shop, as they're one of the industry leaders for marine solar power equipment and installations. We're proud to partner with Donns Boat Shop and offer our reader's such a top-notch company.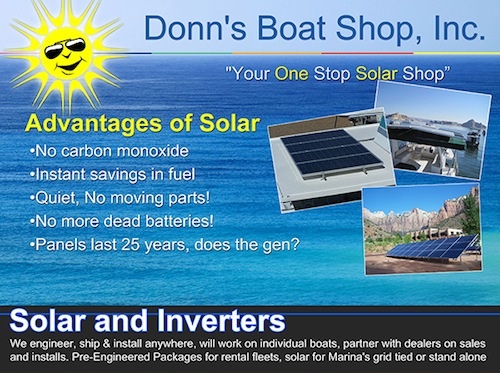 The Advantages of Solar Power
No Carbon Monoxide: solar power does not generate any dangerous carbon monoxide commonly found with gas or diesel generators
Instant Savings in Fuel: when using solar panels to power your boat you see immediate savings in reduced or non-use of your generator.
Quiet, No Moving Parts: a big advantage of solar is it's totally quiet and your boating neighbors are also enjoying the total silence too.
No More Dead Batteries: by using solar power you can eliminate the embarassing moment when you discover that the batteries are dead.
Panels Last 25 Years, does the gen? the quality solar panels can easily last 25 years or more, where as a gas generator rarely does.
Engineering and Installation
Each houseboat has different power requirements and some boat owners want a system to handle light, medium, or even heavy duty demand. This is where Donn can personally analyse and engineer the complete solar system from end-to-end to meet your needs.
Depending on the package, they can even partner with dealers on sales or installs. They have pre-engineered packages for rental fleets, grid-tied marinas, or stand alone applications.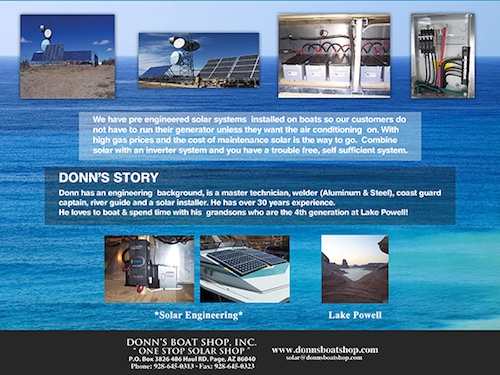 The Story on Donn's Boat Shop
Donn has an engineering background and is a master technician, welder (aluminum & steel), Coast Guard captain, river guide, and a solar installer. He has over 30 years experience and loves to boat and spend time with his grandsons who are the 4th generation at Lake Powell.
Pre-Engineered Solar Systems
They have pre-engineered solar systems installed on boats everywhere so their customers do not have to run their generator unless they want the air conditioning on.
With the ever climbing high gas prices and the cost of generator maintenance, solar is the ideal way to go. When you combine solar with an inverter system you have a trouble-free, self sufficient power source.
Get in Touch with Donn's Boat Shop
If you enjoy top quality solar products, excellent support and installation, and appreciate good pricing, than head on over to
Donn's Boat Shop to get started
.
Lastly
, hopefully some of our readers and visitors will share and post comments about their solar houseboat experiences and tips.
Feel free to use the "Click here to post comments." link found near the bottom of this page.
Thanks again for sharing, IAN from all-about-houseboats
More Information
If you're still looking for more information, you can use our
search box
, found at the top right hand corner.
Free Bonus Offer
To show our deep appreciation to all of our readers and visitors, here is the link to our free houseboat magazine, the INSIDER. Go ahead click the book and sign-up, it's free and filled with great articles, tips, information and website updates.