Boatel Houseboat - Pontoon or Bluewater - Coastal Cruiser House Boats?
I'm confused, is a Boatel Houseboat a pontoon house boat, or Blue Water yachts? I've seen words like Islander, Coastal Cruiser, and Bluewater Yachts associated with Boatel Houseboats, I'm totally confused.

I see that one style or model is a like a pontoon houseboat, while the other on is like a cruiser style fiberglass houseboat.

Can anyone explain why there's such a difference.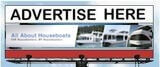 You can advertise here for pennies a day!
Are you a boating related business and want to increase sales and profits from targeted traffic?
Act now to get our 1/2 price sale, limited offer
Reply - Answer
Well, I have also found it confusing since there's different houseboat designs with similar history's. To confuse matters even worse, there's a "DreamBoatel" in Australia also.
Now don't quote me on this, but from what I can tell:
If you look at the North American side of it, from what I can tell, it all started over 50 years ago with the Boatel Company. At one point there was a merger between Boatel Houseboats & Blue Water Houseboats.
Boatel was making rental houseboats with a full hull design made of mostly steel, and some aluminum models.
Bluewater was making performance luxury fiberglass yachts for coastal cruisers with sizes to 50+ feet.
Together they have had quite a few innovations:
The first manufacturer to make a one piece fiberglass hull.
First to have a planing boat over 50ft with gas engines.
Until 1980, they controlled 95% of the rental houseboat market.
They were first to safely install propane appliances on board.
So, is it a Pontoon Boatel Houseboat, or a Boatel Bluewater Coastal Cruiser Yacht, in this case, it just happens to be both.
Either way, both of these houseboat designs have their charm, history, and qualities. You can find both models "For Sale" in basically all major lakes, rivers and marinas.
Lastly
, hopefully some of our readers will share and post comments about their Boatel houseboat stories and experiences.
Thanks again for sharing, IAN - from
www.all-about-houseboats.com
Free Bonus Offer

To show our appreciation to all our readers and visitors, here is the link to our unique free Houseboat Insider magazine.

Go ahead and sign-up, it's free and filled with great articles, tips, and information.
Don't worry, your email is safe with us.