Any good houseboats for sale in Florida?
by Mike
(Florida)
Where to find cheap houseboats for sale in Florida? Looking for some good houseboats for sale in Florida on the west coast, so that I could fix up.

Thanks, Mike.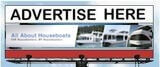 You can advertise here for pennies a day!
Are you a boating related business and want to increase sales and profits from targeted traffic?
Act now to get our 1/2 price sale, limited offer
Reply - Answer
Well Mike, glad to hear that you're looking for "fix er upper" DIY houseboats in Florida. Even houseboats that need some TLC deserve a second chance at a life on the water again. :)
To find some houseboats for sale on the West Coast of Florida, you should have a look at our
used houseboats for sale page
. You'll see that there's a "Where to Find" section.
If you're looking for houseboats that need to be fixed up, you may have good success by simply driving by some of the marinas in the area. The houseboats that are neglected many times don't get the same degree of attention that prime, turn-key houseboats get.
If you drive by and look at the marinas in the area, you may very well see signs of
houseboats for sale by owner.
I would recommend that you also have a look at our page on "
houseboat for sale tips
" to potentially save yourself major headaches on your purchase.
If you end up scanning the houseboat classified ads, you will enjoy reading our page on
screening the houseboat classifieds.
There's tips on how to "read between the lines", that can save you plenty of time and money.
Whichever way that helps to find a houseboat, be sure to come back here and share a picture with us when you get her all fixed up. :)
Lastly
, hopefully some of our readers will share and post comments about their Houseboat For Sale experiences. Feel free to use the "Click here to post comments." link found at the bottom of this page.
Thanks again for sharing, IAN - from
www.all-about-houseboats.com
If you're still looking for information, you can try our
search function
, found at the bottom of the left Nav bar.
Free Bonus Offer

To show our appreciation to all of our readers and visitors, here is the link to our free Houseboat Insider magazine.

Go ahead and sign-up, it's free and filled with great articles, tips, and information.
Don't worry, your email is safe with us.